The midfielder was dismissed after he was seen grabbing Palace's Will Hughes by the throat following an incident when Antony was pushed down the sloped Old Trafford touchline by Jeffrey Schlupp. It led to a heated exchange between both teams, which ultimately saw Casemiro shown a straight red after a lengthy VAR check.
While Ten Hag admitted Casemiro had 'crossed the line' and was correctly given his marching orders by referee Andre Marriner, he was also livid the former Real Madrid man was sent off following recent fouls on Christian Eriksen and Lisandro Martinez in games over the last few weeks, both of which went unpunished.
"You see this team stands for each other, there is such a good spirit in the team and they don't accept when a player from us can be badly injured, that is the way Antony got treated," Ten Hag said after Saturday's Premier League win. "This team sticks together but of course you have to control your emotions.
"It is really difficult in such moments and then I see two teams fighting each other. I see two teams where several players crossed the line and then one player is picked out and gets sent off. For me that's not right.
"The Palace player takes a big risk by this foul that he could get badly injured by pushing him [Antony] across the line and you know the pitch here. Then everyone is reacting, Crystal Palace players and Man United players. Not only Casemiro.
"Last week, we miss Christian Eriksen because of a bad foul [from Andy Carroll] - no intervention from VAR. [Two weeks ago] in Crystal Palace [Jean-Philippe] Mateta elbowed [Lisandro] Martinez, he is running with two weeks with a cut on his eyebrow and no interfering [from VAR] . This has an influence on the game and for coming games.
"You can't cross lines and there are certain standards you have to keep as a team. Also you have to protect each other when players like Christian Eriksen get hurt. It's not as a colleague that you want to bring an injury to a player and it was the same with Antony today. You have to stand as a team, but you have to stay in control because we are role models. They are inconsistent and that is not right."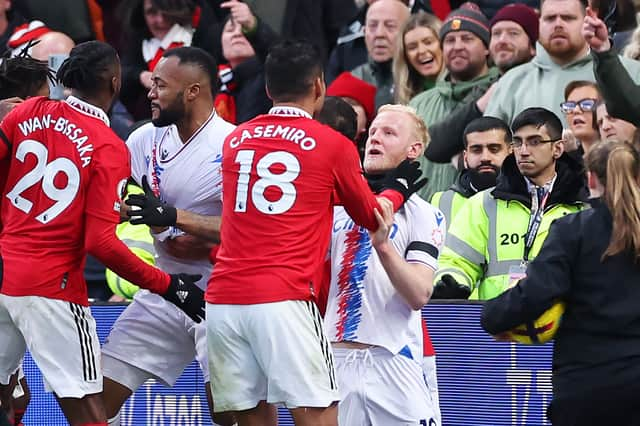 Ten Hag was especially frustrated given replays seemed to show Jordan Ayew had also grabbed Fred in a similar way to Casemiro's hold of Hughes. The United manager said in his post-match press conference that the Ghanaian should 'definitely' have been sent off as well.
"You bring it up but there was one of the Palace players did even worse than Casemiro," he said. "Casemiro, you freeze the shot and he crossed the line. Ayew definitely [did the same].
"Casemiro is protecting our player and also protecting the [United] player [from the Palace player] who wants to attack. He is holding him back - he is protecting him, he doesn't want to hurt the player.
"When Casemiro is sent off for this incident, many more players should have been sent off for that incident. Then you have to be consistent."