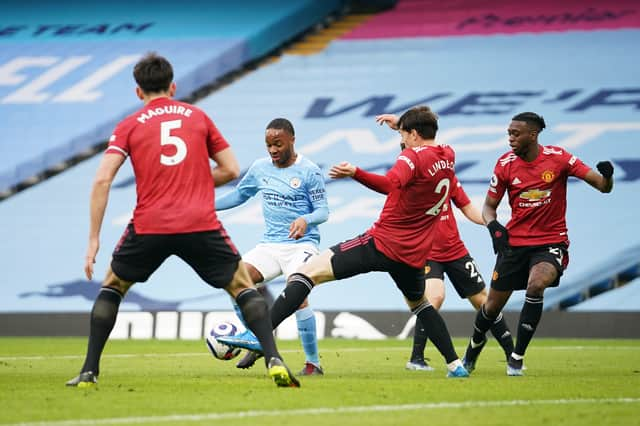 Raheem Sterling is closed down by Victor Lindelof. Credit: Getty.
For the former, their performances have largely been criticised under Ole Gunnar Solskjaer's management, with the Red Devils dropping points in games against Southampton, Aston Villa and Everton this season, as well as losing to Young Boys in the Champions League and being eliminated from the League Cup by West Ham United.
Meanwhile, from the opening few months of the season City haven't quite matched the impressive standards they've set for themselves in recent years.
They lost to Tottenham Hotspur during the opening weekend of the campaign and drew against Southampton and Liverpool.
However, sports website FiveThirtyEight is predicting that City will reverse their slow start and ultimately lift the Premier League crown this season.
The company's supercomputer has analysed data, stats and trends to predict the outcome of every remaining match this season, and has concluded Pep Guardiola's men are most likely to win the title.
City are predicted to end on 84 points, five clear of second-placed Liverpool. The study also concluded there is a 50% chance of City finishing top - higher than any other side - a 27% chance of finishing second and 14% chance of a third-place finish.
FiveThirtyEight also said there's just a 5% chance of the champions finishing outside the top four.
As for United, their predicted finish is fourth on 67 points, with a 19% of ending '21/22 in that spot. The supercomputer found the Red Devils have just a 5% chance of winning the league, and a 52% chance of ending the term outside the top four.
The research concluded Everton and Tottenham Hotspur would earn a Europa League spot, while Arsenal would finish seventh. At the opposite end of the table, it hypothesized that Norwich City, Watford and Burnley would be relegated, although the Clarets would only finish behind Newcastle United on goal difference.