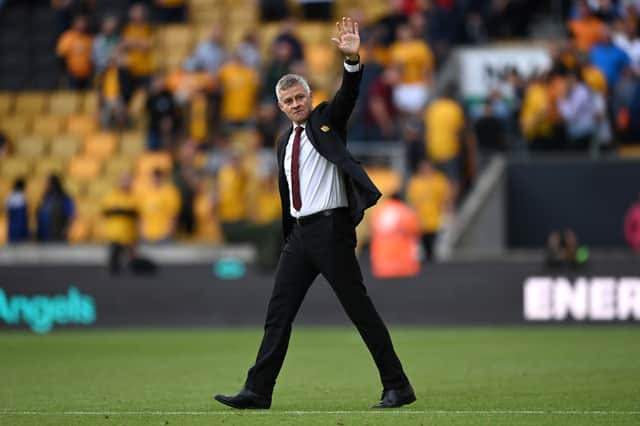 Ole Gunnar Solskjaer. Credit: Getty.
Ole Gunnar Solskjaer's pre-match press conference on Friday was unsurprisingly dominated by one subject: Cristiano Ronaldo.
While the Manchester United manager didn't give any indication as to whether the returning superstar will start against Newcatsle United on Saturday, he did confirm those at Old Trafford will witness his 2021 debut.
"I think everyone is very happy to have him back and he can speak for himself, but he seems happy to be back," Solskjaer told reporters.
"He's been having a good pre-season with Juventus, he's played for the national team, he's had a good week with us here and he will definitely be on the pitch at some point.
"Cristiano coming back in the way he's conducted himself this week [has been great]. We know what he's achieved in his career, but he's come here to achieve more. He's come here to put demands [on others]. That's what he does, he's lived his life with the discipline of a top professional."
Of course the pair played together for four years at Old Trafford and the Norwegian was quizzed about the challenge of now managing such a high-profiled player.
"We have respect for each other, you cannot [not] have respect for what he's achieved in his career," said Solskjaer. "But he knows I have to make the decisions. When to play him and when not to pay him. Any player wants to play as much as possible, of course he does. It's my job to manage him and that we get the best out of him. I want to get the best out of him and that comes through communication.
"We spent a few years at the club together and we know each other. He doesn't need me to tell him what to do. He's always had the determination and the desire to be the best."
Ronaldo and Solskjaer. Credit: Getty.
Ronaldo has developed his game immensely during his 12 years away from United, and the manager is fully aware he's gaining a very different asset to the one that departed in 2009.
"He's developed and evolved as a player," Solskjaer explained. "As age goes by you have to change your game a little bit. I don't think you'll see those 18,19,20 stepovers before he goes past you, but he still has them; he still has the stepover the shift and the shoot.
"He's developed into one of the most accurate finishers that I've seen. I did see parts of that when he as here before, but what he's developed in those years at Real Madrid impressed us all. He's one of the best in the air, his timing, his desire to get on the end of crosses is second to none. He still hits the target 99 [times] out of 100.
"There are times when he shoots outside the box. He knows the game more, his decisions when to drop and when to run in behind. He's still as quick, it looks like, from the stats. He's a shining leading star and everyone is going to look up to. He's going to be a leader in this dressing room."