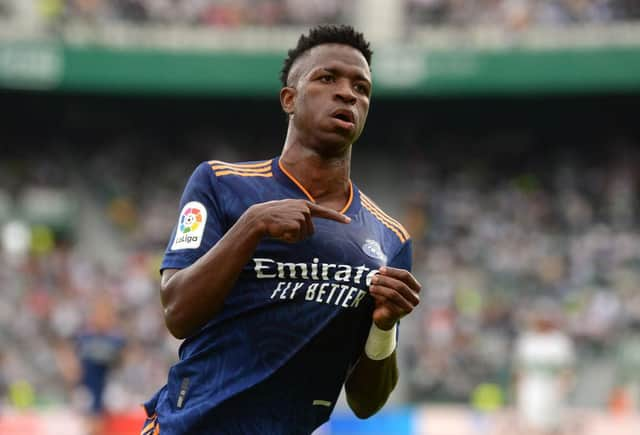 Manchester United have reportedly had a big money contract offer flatly rejected by Real Madrid sensation Vinicius Junior.
The Reds endured a hugely underwhelming run of results heading into the current international break, with culpability for their recent slump apportioned largely to their ongoing defensive frailties.
But in time-honoured tradition, that hasn't stopped United from making an approach for yet another bright young attacking talent – or at least it hasn't according to the Spanish media.
El Nacional report that contact was made with 21-year-old Vinicius over a bumper six-year deal that would have taken him to Old Trafford on an annual salary of £13.7 million, or just over £82 million in total.
The Brazilian is said to have snubbed the offer, however, and is instead intent on continuing to build his career in the Spanish capital.
Do the bookies fancy it?
Truthfully, it doesn't look like they do.
Hunting down prices on a potential United swoop for Vinicius is such a convoluted and futile pursuit that it makes The Da Vinci Code look like The Very Hungry Caterpillar. Given that most bookies will take money on just about anything (Neil Warnock as next United manager at 500/1, anyone?), the scarcity of odds surrounding Vinicius should tell you all you need to know.
How likely are Man United to seal the deal?
The short answer is 'not very'.
Aside from the fact that Vinicius is already said to have turned down United's reported offer, there are also suggestions that Real are keen to extend his current deal in Spain, and could look to insert a release clause of around £854 million into any new contract. Good luck triggering that.
It's not hard to see why Carlo Ancelotti's men are so keen to hang on to the South American either. Heavily touted as one of footballs next genuine superstars when he first signed for the club, Vinicius is only really now starting to make good on his sizeable potential, and has registered nine goals and seven assists across 16 appearances in all competitions this season.
Various rumours earlier in the year claimed that Real were willing to offload the young attacker, but given his current purple patch, it's very, very unlikely that is still the case.
As for United, common sense would tell you that their immediate transfer priorities going forward should probably lie elsewhere, with a new holding midfielder increasingly looking like an absolute must in particular.
What are the fans saying?
Perhaps some of the most telling reactions have come from Real Madrid fans, who have been quick to dismiss the story.
@dnii0412 tweeted: "We start talking from 200 million, Bruno Fernandes, Greenwood, and Wan Bissaka".
@druida77 tweeted: "Non-transferable, he will triumph in Madrid".
Understandably, there is still some appetite from United fans for a deal to be struck, however unlikely it may now appear.
@VisualsByBaz tweeted: "@ManUnited, work fast now, get him".
@YANITEDARMY tweeted: "One of the best players in the world right now on current form. Reminds me of Santos Neymar".