Manchester United legend Paul Scholes has revealed he would rather play alongside Casemiro than other midfielders at the club. The former Red Devils star believes Casemiro's defensively-solid style of play would make him a better partner than Bruno Fernandes or Christian Eriksen.
Casemiro joined United for £70 plus add-ons in the summer from Real Madrid. He is regarded as one of the world's best defensive-midfielders, and helped his former club win five Champions Leagues during his tenure in the Spanish capital. Scholes, who is the Red Devils' third-highest appearances holder having played 718 times for the club, likened Casemiro to several of his former midfield partners, including Roy Keane. The former believes the current United no.18's ability to screen the defence during attacking and defensive phases of play, would allow him to join the attack when in possession.
In response to being asked which Red Devils' midfielder he'd prefer to play alongside, Scholes told the club's official website: "It's quite an easy question because of the style of play. I'd much prefer to play with Casemiro, somebody who I knew could play the position really well. He probably reminds me of [Michael] Carrick, [Nicky] Butt, Roy Keane and those type of players."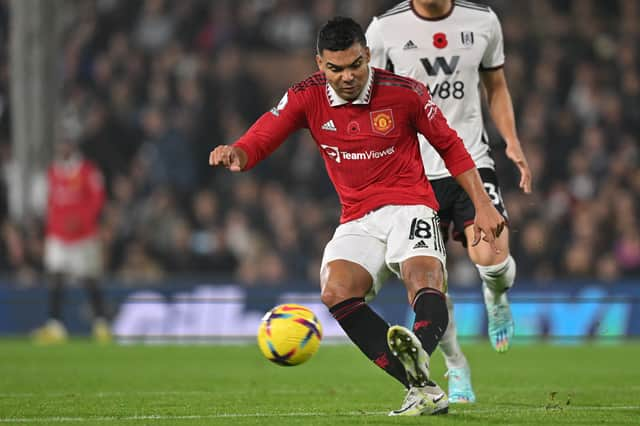 The United legend was known for his exceptional passing ability, spraying the ball from distance and helping create chances for his former club. He was also keen to get on the scoresheet and famously scored from distance, most notably a fantastic long-range strike against Barcelona in the semi-final of the Champions League in 2009.
One player that reminds some of Red Devils supporters of Scholes is Bruno Fernandes. The latter share similarities in his style of play to the former, but this is something Scholes thinks would lead to a 'disaster' in midfield.
"With Bruno, I think we would be all over the place and us two together in midfield would be an absolute disaster," he said. "Just both of us would want to be up the field, contributing and scoring goals and trying to win games. Look, if I had to choose out of the two, it would have to be Casemiro."
As for United's other midfield summer signing Christian Eriksen, Scholes thinks the Dane's style of play is too similar to him. This led to the Red Devils legend reiterating that Casemiro would be the best option.
"Again, probably Casemiro," Scholes said. "I love Christian Eriksen, I think he's brilliant but a little bit more like me and just worried about the attacking side of things.
"Look, if me and Christian or Bruno played together, it could be 6-6 or 7-6. There could be any score. We'd concede a lot of goals but might score a few. Just having that added security of Casemiro. Like I said, Roy Keane, Nicky Butt, Michael Carrick could play the position perfectly and they're the type of players I prefer to play with."