Paul Ince has praised Erik ten Hag's impact since taking over at Manchester United and has claimed the club are 'getting a presence' while complimenting the Dutchman's ability to snuff out dressing room leaks.
The former Red Devils skipper was speaking at Old Trafford after his Reading side lost 3-1 in the FA Cup fourth round on Saturday. Ince, who played 260 times for United during his career, was given a warm reception by the home fans on his return to his old stomping ground.
Ince was asked after the game what he's made of Ten Hag, and the Royals boss said the future looks 'bright' at United, adding everyone is 'buying into' the manager's methods.
"I tell you what - no disrespect, but I feel that if we'd have played United a year ago we'd have come here thinking 'we have a right good chance of beating them'," claimed the ex-midfielder. "I felt that United had lost their presence. I thought teams were coming to Old Trafford and thinking they could get something.
"I think under Ten Hag, in such a short space of time, he's lifted the whole club. The last two or three years have been tough on United fans and there has been a disparity between the fans, the players and the club. It looks to me like Ten Hag has started to bridge the gap.
"You can see that today, the fans are buying into what's going on at the club - yes, it's going to take time but they are starting to get a presence about them. That's important because if you go back to the Fergie [Sir Alex Ferguson] years, that's what it was, the presence of players.
"It might take two or three years. He seems to have really got the club in the right position it should be to go forward and it's his way, he looks like he's doing things. There's no stuff coming out about 'players this, players that', the situation in the changing room. They all look like they are glued together and that's really important. I'm really pleased as a [former] Man United player, to see the future looking bright.
"Sometimes the problem you have is this 'head coach' title where you're governed by other people and there are too many people involved," he added. "But I think with Ten Hag, he knows what he wants. Even before he came in he said 'we have to do it this way, that way'.
"Everyone is on board and you have to buy on board with these types of things. There's a long way to go and I'm sure there's a lot more money to be spent, but I'm definitely pleased to see the way United are going at this moment in time."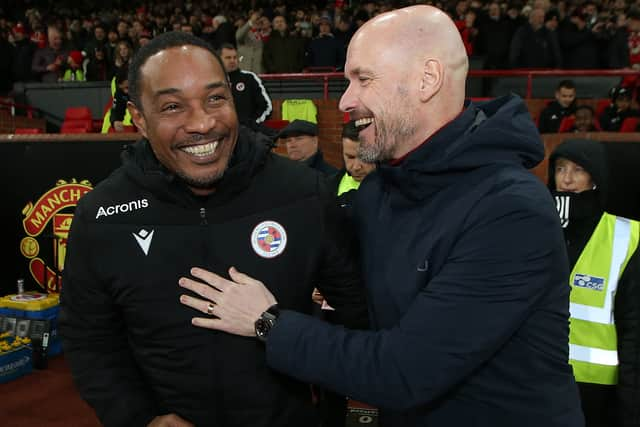 Asked what he said to Ten Hag after the full-time whistle, Ince replied: "I just said 'all the best'. I said 'you're doing a very good job and I wish you luck in the fifth round'. Simple as that."
The 55-year-old won the FA Cup twice during his time at Old Trafford as well as the League Cup in 1992. United are still alive in both competitions this season, and Ince claimed it's time the Red Devils ended their trophy drought.
"You'd like to think they're in the League Cup final after beating Forest 3-0 [in the first leg]," Ince opined. "United have to be winning trophies. It's six years since they last won a trophy. That's not good for a United team, so they have to win something.
"The fans have always been brought up on winning something, whether that's the league or the FA Cup or League Cup. It would be nice for Ten Hag, in his first year, to pick up some silverware.
"They've got a great opportunity now in the Carabao Cup - FA Cup, obviously it depends on who you get drawn [against]. If United play the way they have been, there's no reason why they can't."