Ole Gunnar Solskjaer latest: Man United manager at training on Tuesday and expected at Spurs game at weekend
We've rounded up the latest reports surrounding the under-fire United boss.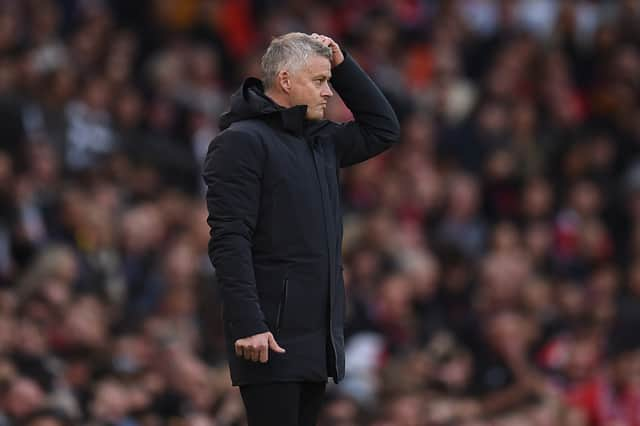 There is a hope from the United board that Ole Gunnar Solskjaer can turn it around. (Photo by OLI SCARFF/AFP via Getty Images)
Manchester United are not about to sack Ole Gunnar Solskjaer as their manager, at least for the foreseeable future, it has been reported on Tuesday - along with speculation about Sir Alex Ferguson's influence.
The Red Devils were humiliated at Old Trafford on Sunday, losing 5-0 to bitter rivals Liverpool, prompting calls for the Norwegian's time as United manager to come to an end.
We look at what's being said around Solskjaer's future today (Tuesday) as the rumour mill continues to go into overdrive.
Ole stays... for now
Sky Sports News has reported that despite mounting pressure from outside the club, his position is not under threat for the time being.
The general consensus at the club is the hope that the United legend can turn their fortunes around after picking up just one point from their last four Premier League matches.
The 48-year-old is undertaking today's training session at Carrington, an indication that in the short-term, he is set to remain in his role. Players were pictured arriving at the training ground on Tuesday morning.
United's next two Premier League matches are against tricky opposition with a trip to North London to face Tottenham Hotspur on Saturday before the all important matter of a Manchester Derby the week after.
Chris Wheeler from the Daily Mail repeats Sky Sports' claims that Solskjaer is likely to manage Saturday's game against Spurs and that the feeling is everyone needs to pull together, rather than make any rash decisions.
The Guardian claims that Solskjaer has the backing of his former boss Sir Alex Ferguson, and that the final decision will rest with Joel Glazer, while the Manchester Evening News reported that Fergie turned up at Carrington on Tuesday.
Eric Bailly is said to be one of the players who questioned Ole Gunnar Solskjaer's tactics. (Photo by KACPER PEMPEL/POOL/AFP via Getty Images)
Players questioning his tactics
Man United reporter for The Athletic, Laurie Whitwell reports that Solskjaer reportedly asked the players for feedback after they leaked a number of chances in recent games, with more than one player suggesting that the manager is the problem.
James Ducker from the Telegraph reported that unused substitute Eric Bailly was one of the players who challenged him.
Bailly allegedly questioned Ole in why he picked a centre-back (Harry Maguire) who was not fit and had reportedly only trained once leading up to the game. They had expected changes to be made from the Atalanta game, having initially trailed 2-0 at half-time.
The players are also apparently unhappy in the treatment of the likes of Donny van de Beek, Jesse Lingard and Nemanja Matic, who have been frozen out, despite Ole's desire for a big squad, which would allow him to rotate.
Premier League winning manager Antonio Conte is now the front-runner for the job. (Photo by Michael Regan/Getty Images)
Antonio Conte wants the job
Yesterday Fabrizio Romano, who works for Sky Italia said Antonio Conte is the leading candidate to replace Solskjaer should he be sacked but no discussions have been held with the Italian.
It has been reported that the former Chelsea manager wants the role and should it be offered to him, he would accept it.
One player that could object to the appointment of Antonio Conte is Cristiano Ronaldo: Italian paper La Republica claims that Ronaldo doesn't like Conte's defensive style of play, as well as his policy to rest big stars.
Elsewhere in a report from The Athletic, Laurie Whitwell said that in terms of a replacement, long-term admirer Mauricio Pochettino is still interested in the job, but is only likely to take it if Solskjær is given longer in the role.
Brighton & Hove Albion's Graham Potter could also be considered as a possible replacement.