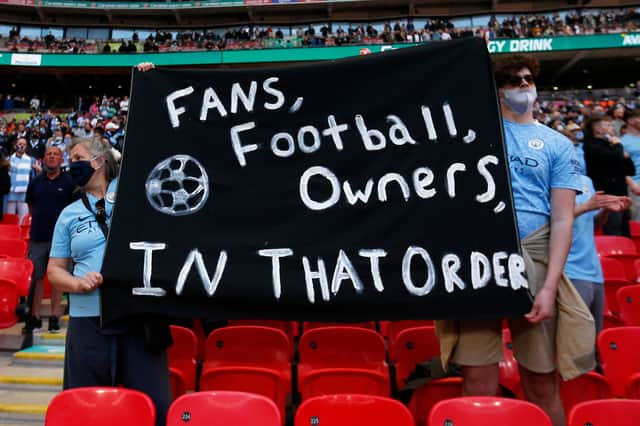 The controversial European Super League (ESL) is back on the table, with new reforms altering the format of the competition.
The initial Super League was formed in April 2021 by 12 football clubs including Manchester United and Manchester City. But plans for the competition were quickly shelved following the backlash from supporters who forced the six Premier League clubs to pull out of the ESL and ultimatley led to its collapse.
Yet Barcelona, Real Madrid and Juventus never abandoned the concept of a new multi-nation league, and on Thursday, via A22 Sports, have announced a new concept based around 10 key principles.
In an article in German newspaper Die Welt, A22 chief executive Bernd Reichart wrote: "The European club football is facing a critical juncture. Many domestic leagues are out of balance. Clubs write billions in losses and clubs with a long tradition can no longer keep up. To fund the present, clubs in Spain and France have mortgaged their future by selling TV rights for 50 years or more. And it looks like other countries are following suit.
"In October we started an open dialogue on the future of European club football . Since then we have spoken to around fifty European clubs and other football stakeholders. The vast majority agree that the foundations of European football are in danger of collapsing. It's time for a change.
"Our talks have also made it clear that clubs often find it impossible to speak out publicly against a system that uses the threat of sanctions to thwart opposition.
"Our dialogue was open, honest, constructive and resulted in clear ideas about what changes are needed and how they could be implemented. There is a lot to do and we will continue our dialogue."
The 10 key principles include 'athletic performance' which will see 60 to 80 teams compete in the ESL and those involved in the league will be 'based on the sporting performance'. Teams would qualify based on their positions in domestic leagues and there will be no permanent members.
Clubs would remain part of national leagues and there would be 'strictly enforced rules' financial rules. Principle four centres around players' health being of paramount importance, while the A22 say the ESL must be 'most exciting sporting event in the world' and lead to a better experience for fans.
Women's football would also be developed, while solidarity payments would extend to 'non-participating clubs and for social causes'. Finally, Reichart adds that 'EU values, laws and freedoms must also form the basis for European club football'.
The suggestions put forward on Thursday differ widely from the original format which had 12 fixed members and eight others who would join the ESL. Sporting merit would have played no part in the first concept, while there was little detail given regarding finances and how it would impact the respective national football leagues and competitions.
Manchester City have not commented in response to ManchesterWorld's enquiry regarding Thursday's announcement, while Manchester United are yet to reply.