Gary Neville speaks out on Ole Gunnar Solskjaer's exit, slams Manchester United's 'broken' dressing room
The Old Trafford legend has offered his view in the wake of this morning's departure.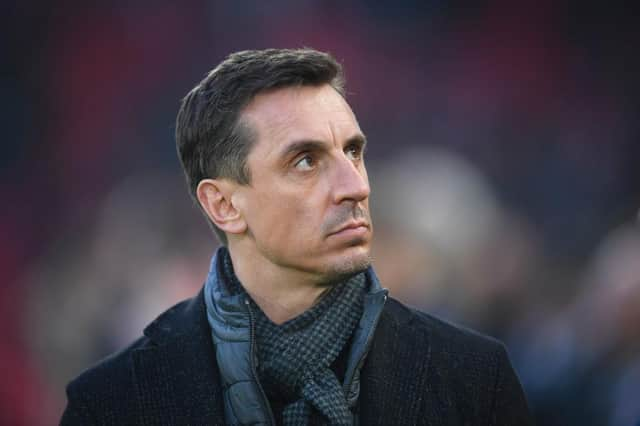 The Norwegian's exit was confirmed in an official statement from the Reds on Sunday after a poor run of results culminated in a 4-1 defeat at the hands of Watford yesterday.
Amid mounting pressure on Solskjaer during the final weeks of his tenure at Old Trafford, Neville vocally refused to join calls for his former teammate to be sacked, but now that the 48-year-old's exit has been confirmed, the ex-England international has been quick to deliver his opinion on the matter.
Speaking on Sky Sport's Super Sunday coverage, he said: "Three years in the job, Ole Gunnar Solskjaer can't have any complaints.
"I've always said that for managers to get two or three years at the top level they have to deliver, and the results and the performances over the last couple of months have been horrific. That was a wimpish performance yesterday against Watford.
"I hope the problems are just the manager, and that something hasn't happened in that changing room in the last couple of months that's made them be as bad as they have.
"I hope they can pick themselves back up under an interim manager, obviously Michael Carrick initially, and then someone else.
"That dressing room at this moment in time looks absolutely broken, it has to be. They look completely drained of any confidence, they've got the world on their shoulders when they play football, and they've got to go back to thinking like they were as kids when they were playing in the streets because it just looks too much for them at the moment."
Neville also weighed in on suggestions that the Reds could have looked to remove Solskjaer from his post earlier than they have done.
He added: "You saw what the clubs that sacked managers did a few weeks ago – they used the international break to reset and get themselves right.
"Manchester United have obviously tried to crawl towards the end of the season. They haven't got any options available. There's no-one there who was waiting to take over from Ole Gunnar Solskjaer. I think if it had been a couple of years ago and a Pochettino or a Tuchel had been available, maybe they would have done it a couple of weeks ago.
"They were never going to appoint Conte, whatever anyone else might say about that.
"They're scrambling. They're reacting. It's three times now they've given a manager a long contract or extension and sacked them in a few months. The planning at the football club has been poor, the decisions over the past eight years since Sir Alex left have left a lot to be desired.
"I just hope they can get the manager in place quite quickly now who can keep the momentum going.
"But like I say, I do worry a little bit about the last few weeks, about how that dressing room has disintegrated. I actually think that dressing room like Ole and I think Ole likes those players, so I'm a little bit worried about how it got so bad so quickly.
"Eight weeks ago it was euphoria in Manchester. Literally eight weeks later, a manager has lost his job."