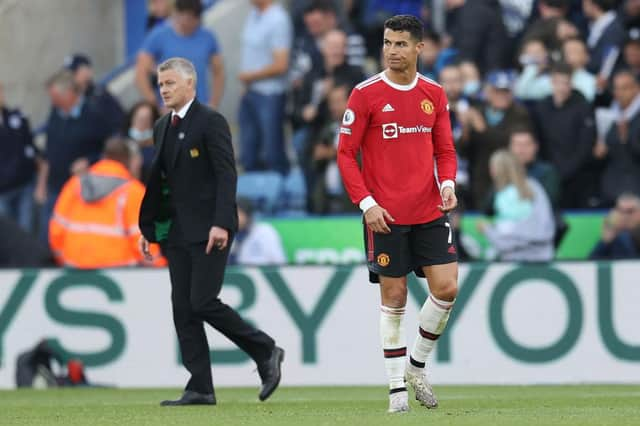 Paul Merson has claimed that Cristiano Ronaldo's arrival at Manchester United played a big part in bringing about the end of Ole Gunnar Solskjaer's tenure at the club.
The Portuguese superstar made a high-profile return to Old Trafford in the latter stages of the summer transfer window, and has since gone on to register nine goals and two assists in 14 appearances across all competitions so far this season.
But his continued inclusion in United's starting XI has also coincided with a dire run of form that ultimately led to Solskjaer's dismissal, with some pundits questioning whether the 36-year-old's style of play is best suited to the counter-attacking blueprint with which the Norwegian enjoyed some of his most successful moments in the dugout.
Speaking to Sky Sports, Merson was quick to reiterate those doubts in a relatively scathing appraisal of Ronaldo's disruptive influence on Solskjaer's tactical approach.
He said: "I feel sorry for Ole Gunnar Solskjaer.
"He had a plan at the start of the season, having finished second last season. He's chased Jadon Sancho for a long time, got him in, and he's given Edinson Cavani another year.
"You could see his plan: you play Cavani every other game, you have Sancho on one side, Marcus Rashford on the other, you have Mason Greenwood coming in and swapping around, you have pace, power, energy, youth, skill, the lot.
"Then, just before the season starts, he gets given Ronaldo. I think he's thrown it all out of the window. From day one, they're not a better team with Ronaldo in it.
"You don't go 29 games unbeaten away without playing a certain way, and bringing Sancho in gave them another weapon to play that way. With Ronaldo up there, you don't have that weapon to play on the counter-attack any more. And Bruno Fernandes was their best player last season - he's hardly had a touch this season!"
The former Arsenal man added: "It's all snowballed for Solskjaer. He had a plan, and the Ronaldo situation threw it all out of the window, just before the season started.
"They only went for him because they heard Man City were after him. It's not like United were calling Juventus to ask if he's available because Ronaldo is the missing link for United winning the Premier League. He isn't!"