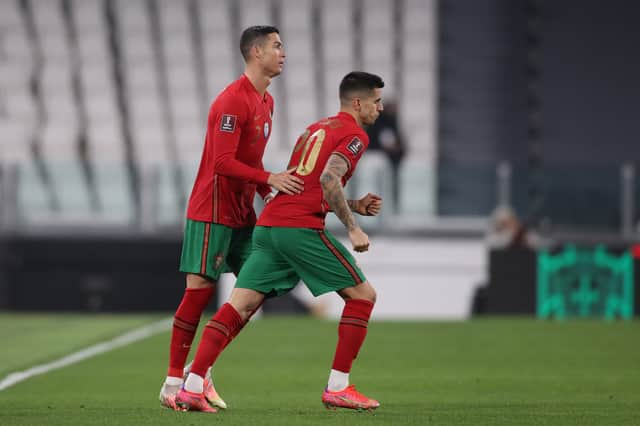 Cristiano Ronaldo and Joao Cancelo. Credit: Getty.
Five Manchester-based stars are up for September's Premier League awards.
Manchester United's Cristiano Ronaldo marked his first month back in the English top flight with three goals in as many games as the Red Devils picked up six points.
A double against Newcastle United inspired Ole Gunnar Solskjaer's men to a 4-1 win, while he got the side back on level terms against West Ham United a week later.
Could Ronaldo win a fifth Player of the Month award? Credit: Getty.
That impressive contribution has seen him nominated for the September 2021 Player of the Month award. The former Real Madrid and Juventus man has previously won the prize on four occasions during his first spell at United.
However, Ronaldo will have to fend off competition from his international team-mate Joao Cancelo, who is also up for the award. The full-back played every minute for a Manchester City side who didn't concede a single goal in September, while Cancelo contributed an assist for Gabriel Jesus's goal against Chelsea last weekend.
Elsewhere, Jesse Lingard is up for the Goal of the Month award for two separate strikes, the first coming in the win over Newcastle and the second was his sumptuous winner against the Hammers. Bruno Fernandes is also a nominee in this category, for his pile driver against Newcastle.
Across the city, it's Pep Guardiola who is up for the Manager of the Month award having guided the champions to seven of nine available points, including excellent away victories over Leicester City and Chelsea.
Full list of nominees
Joao Cancelo- Manchester City
Cristiano Ronaldo- Manchester United
Allan Saint-Maximin- Newcastle United
Bruno Fernandes v Newcastle United (11 Sep)
Jesse Lingard v Newcastle United (11 Sep)
Romelu Lukaku v Aston Villa* (11 Sep)
Andros Townsend v Burnley (13 Sep)
Naby Keita v Crystal Palace (18 Sep)
Matty Cash v Everton (18 Sep)
Jesse Lingard v West Ham United (19 Sep)
Pierre-Emerick Aubameyang v Tottenham Hotspur (26 Sep)
Pep Guardiola- Manchester City
Graham Potter- Brighton & Hove Albion