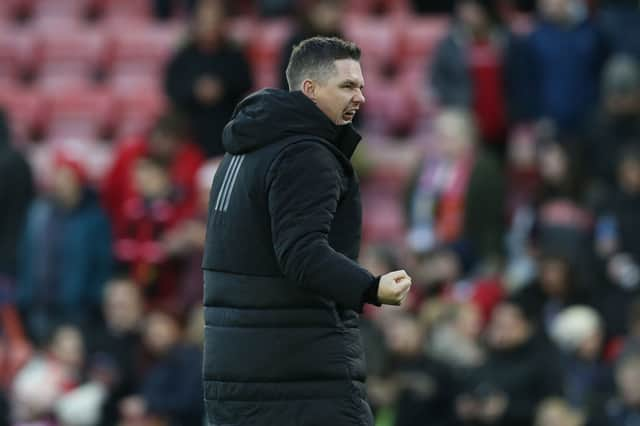 Manchester United enjoyed a perfect return to WSL action as they thrashed rivals Liverpool 6-0 last Sunday to go second in the league.
However, in a tight title race, United head coach Marc Skinner know there can be no let up.
He spoke to the media in the run up to the weekend game at Reading and here are all the main talking points from his press conference:
On challenge of Reading
"The last time we played Reading, we had a quick start. We took our foot off the gas a little bit going into the second half, but Reading were better.
"Kelly and Phil are very wise and aware of how to set up a team and they won't have been happy with that first half (last time the two sides met). For us, we have learned from then and now it is trying to find ways -the pitch is huge - we can exploit that, while Reading can also use it to their advantage. I just think we are in a different space to then and I think we can hurt teams in the first and second half of games now."
On Marc Skinner's own contract
"There are conversations of course but, if you know me, I am very simple and straight in what I want to do - which is win here.
"I'm hoping the qualities and the consistency, the cleans sheets, the goals, the fan growth, hopefully there's a lot of indicators as to why we should be here for a long time but I am really easy on that. I trust the club wholeheartedly. It's not about me - it's about this team.
On keeping the confidence high in players that aren't playing regularly from the start
"It is a really good point. I think it is important that fans have their favourite players and of course it is their opinion and why we are in this game.
"The reality is that when people perform really and the team is performing well you'd be crazy to change it for the sake of it. We see players every day in training all week, all training. Sometimes they have things going on personally, sometimes they don't. Sometimes they train effectively, sometimes they don't.
"They way I keep them motivated is a really simply conversation about what I expect, where they need to be, 'this person is playing well, this is how you can help yourself get into the team'.
"After Christmas I did a round of meetings with the players which can last up to an hour and a half, going through clips and what we expect of each other, listening to them to - which I think is really important as a coach to listen. We all know in football you are one injury away from a starting place.
"I want a really competitive team, which I don't feel we had last year - and that is how we do it."
On future of on-loan goalkeeper Emily Ramsay
"Rambo has been excellent this season & it is clear her playing is helping. She's been more consistent. I was very clear with her when we met at the start of the season with the idea of her going out on loan was that we see you as a future goalkeeper here.
"We have England's number one here, Sophie Baggaley does an exceptional job when she comes in. The reality is we want to have a talent pool that pushes and progresses is each other. For Rambo, the loan market is well working at the minute.
"I'll assess it through the next part of the year, but they're all brilliant and work their socks off to be the best they can everyday.
On Man Utd's current defensive record being the fourth best in Europe
"It is down to teamwork. We defend as a group. That starts from Alessia all the way up.
"I just believe as a team you function better and that's why we keep clean sheets, create chances and have so many different goalscorers"