Man Utd latest news: Head coach gives contract update and reveals when new signing could feature
Manchester United head coach Mark Skinner spoke to the press ahead of the weekend FA Cup tie with Durham and discussed the international break and contract extensions for a key player.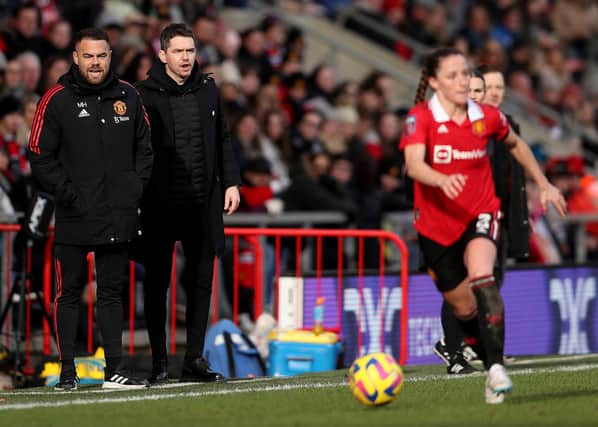 Head coach Skinner was in fine form as he chatted to the press ahead of the game, addressing the contract situation of key defender Ona Batlle who was rumoured to have rejected an improved offer as per The Athletic this week.
Here are his full quotes from today's press conference.
On Ella Toone's red card at Tottenham being rescinded
"I am absolutely delighted that the right decision was made. Whatever's happened now has happened, the game is done and dusted but I am delighted that we have Ella available.
"Just so we're very clear we still talk about our actions and what our responsibilties are within our actions. Everything is always going to be about education for our players and our responsibility within that - but the right decision was made and it was upheld by the FA and an advisory board.
"For us it felt like that was the right decision at the time and it has been vindicated to be. For me though, what is really important is that it's a moment in time - we learn from it and move forward."
On Aoife Mannion's decision to represent Republic Of Ireland
"What I love is Vera Pauw has been in contact to talk about how safely we put Aofie into practice with games. She's had a long time out, Aoife, and she hasn't played that much for us. The reality is our defence is excellent at the minute but Aoife - everyone knows how we feel about her and the qualities she has. She played for me at Birmingham.
"She's definitely - once back and ready in terms of games - she'll be ready to challenge Millie (Turner), Maya (Le Tissier) and Aïssatou (Tounkara). I think it is wonderful, I really do and do you know what I love most importantly? Aoife made a decision and she went with it. The potential of her being able to go and represent her country...look, what people forget, I know she was in contention for England squad but her parents are Irish and there's a full Irish heritage there that she is supporting. She's had a fondness ever since I've known her so I think it is wonderful and I wish her all the very best.
"I don't need to advise her, I just need to make sure she is in a headspace to apprieciate her qualities that she has and she is in a really good head space. I'm looking forward to seeing her play. I think green will look good on her."
On reports Ona Batlle has rejected the offer of a new contract
"I've honestly not read the article (in the Athletic that said she had rejected a contract). There's so many spurious conversations - though I'm not saying that one is, I don't know.
"The reality is when I look at Ona in the face, I know how happy she is here. I know what we do every day in training. Only yesterday we were doing some one on one stuff, on Friday we are going through her clips and how we continue to progress her abilities.
"I have no doubt she loves Manchester United. I know Polly (Bancroft) and the group are working hard behind the scenes on and off the pitch to try and make her a Manchester United player for years to come.
"With all of these things there are...complexities, but I know Ona is really happy here and we are still working hard to make it happen. I hope that Ona will look at that and we can keep her here for many years to come."
On links to Qatar takeover and if it is causing issues with contract extensions
"I'm not here to comment on takeover bids and the things that happen. Those things will happen and it will come out in the wash and we will have conversations about that at a later date - I'm sure - but we are business as usual.
"The meetings I have had this week about squad development and how we are going to grow have not stalled - we are business as usual and we will continue to look at how we can make this team as successful team going forwards and can compete on all fronts moving forward."
Latest on Lisa Naalsund and Jayde Riviere and when we can expect them on the pitch
"Everybody will hopefully come back from the international experience in a good, fit manner. Some have played three 90s or close enough, some have played two, some one and others little parts - so we do have to assess them when they come back, which we'd do anyway, and we'd not risk anyone because we have a lot of games coming up towards to end of the season.
"What is really positive is that Lisa was training yesterday with the team. It is her first season with the team and she is looking like she is in a really good space. She will come back again on Friday and do the technical parts with the team.
"Jayde's not quite there yet. We are looking at the week after Chelsea or the week after that - but we're hopeful with Lisa, we are aiming for the Chelsea week but we are hoping we can manage a week earlier than that. She's looked exactly like I thought she would - energy, box to box, physicality - she's in a good space and hopefully we will see her sooner rather than later."