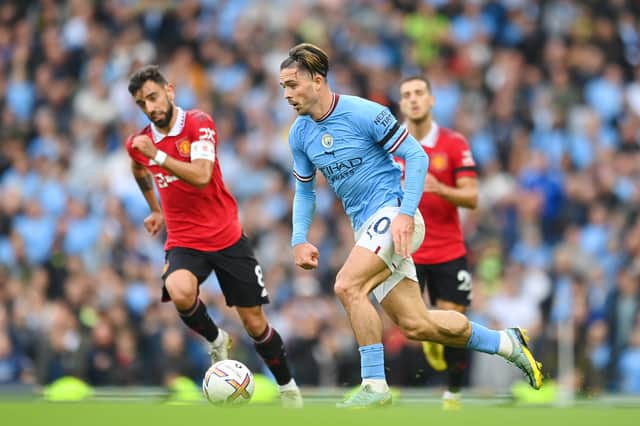 Manchester United and Manchester City have a clearer idea of how their respective Februarys will look following the latest announcement of Premier League TV selections.
The English top flight confirmed on Monday which matches will be moved to accommodate the broadcasters, with the two clubs having nine league matches between them in February. United face Crystal Palace on Sunday 4 February, the only match that month not to be altered from its original date. Next it's a trip to Elland Road to face Leeds United the following Sunday, and on 19 February Leicester City travel to Old Trafford, either side of United's Europa League double header against Barcelona.
Erik ten Hag's men finish the month with a home encounter against Brentford on Sunday 26 February, although the Carabao Cup final is on the same day, and the clash with the Bees could be rearranged should United progress all the way to Wembley.
As for City, they begin February with an away clash at the Tottenham Hotspur Stadium (Sunday 5), before hosting Aston Villa on 12 February. It's then a huge clash with Arsenal three days later, a fixture which had previously been announced.
Nottingham Forest vs City remains at the same date - 18 February - before Pep Guardiola's men return to Champions League with a difficult trip to RB Leipzig on 22 February. Three days later and it's a home match against Bournemouth to see out the month, although that could be changed if City make it to the final of the Carabao Cup.
Man Utd full February fixtures
Sat 4: Crystal Palace, 3pm (H)
Sun 12: Leeds United, 2pm (A)
Thu 16: Barcelona, 5:45pm (A)
Sun 19: Leicester City, 2pm (H)
Thu 23: Barcelona, 8pm (H)
Sun 26: Brentford, 1:30pm (H)*
Man City full February fixtures
Sun 5: Tottenham Hotspur, 4:30pm (A)
Sun 12: Aston Villa, 4:30pm (H)
Wed 15: Arsenal, 7:30pm (A)
Sat 18: Nottingham Forest, 3pm (A)
Wed 22: RB Leipzig, 8pm (A)
Sat 25: Bournemouth, 5:30pm (A)*
*Dependent on Carabao Cup run