Where Erik ten Hag coaches Marcus Rashford and Bruno Fernandes at Carrington, Manchester United super fan Mark Graham is putting his grandkids through their paces in his daughter's living room.
Sarah Gallagher admits she's not too delighted about footballs whizzing around her front room but shares the joy her toddlers have when their grandpa comes around to help them take their first steps to becoming Stretford End legends.
She said: "The boys love Dad's coaching lessons but sometimes he starts them in the living room so I'm not delighted about that, hopefully with the summer coming up it can be strictly garden football lessons.
"They have their nets set up at either end of the garden and my oldest son, who is three, claims he's scored nine goals past Dad, so maybe he's taught them too well already or there could be a future United striker in the making."
Years of long summers ahead watching the young boys hone their ball skills should be the outlook for the Manchester United-loving family, but instead they are facing a fight to keep Mark with them.
The 64-year-old was diagnosed with pancreatic cancer for the second time in March and this time doctors have given an incurable prognosis.
Sarah said: "We were all devastated that it had returned as we were just getting back to life as we knew it from before his first diagnosis.
"Dad was deflated as he had been through chemo the first time and was dreading the sickness that he suffered after each round returning.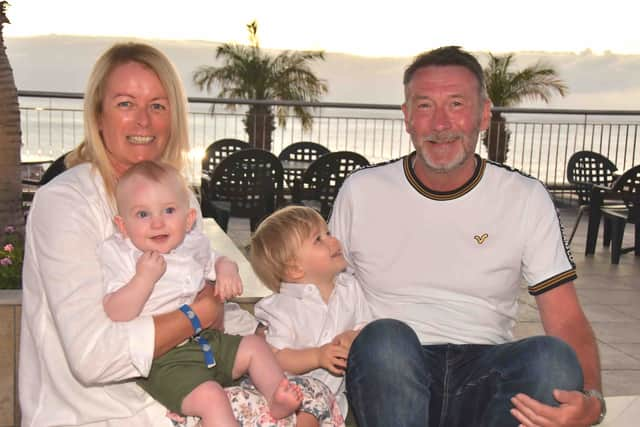 "He's very sociable, he enjoys being out on the golf course with his friends or with his mates to watch a United game, but he can't do that while going through treatment so he really misses seeing all his friends from the golf club."
The family are from Northern Ireland and Mark worked as an aircraft fitter at Bombardier, as well as a taxi driver when younger. He had just started to enjoy retirement with his wife of 36 years, Cathy, when the cancer diagnosis came again.
The family may not hail from the North West but have had an affinity with the Red Devils from a young age.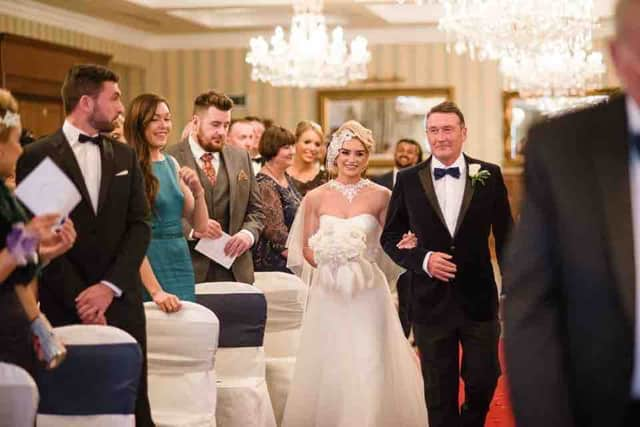 Mark's older brother Gareth decided to support the club at the age of eight and the seed was planted for his younger sibling. Ever since it's the only club the family has ever known.
Sarah said: "Although I wasn't big into football, I knew we were strictly a Red household and thankfully I found a husband who is also a huge United fan.
"Dad has both my boys following United, they've both had United baby grows and now football tops. They cheer along when the games are on and also know when 'Ganda' is sad as the results haven't always gone their way this season."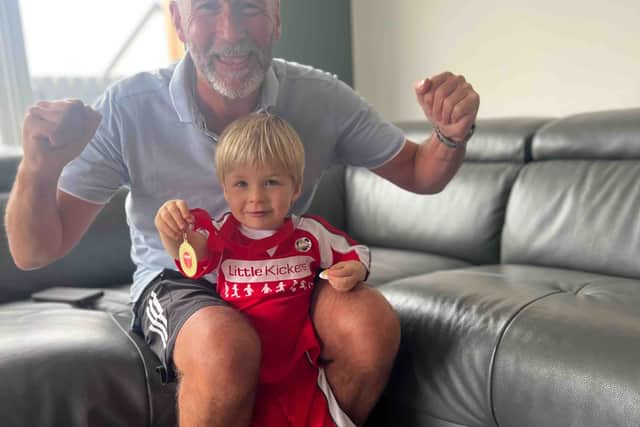 Mark, who is almost as passionate about hating Liverpool as he is loving United, has made the pilgrimage to Old Trafford and has never missed watching a game with favourite players in George Best and Paul Scholes over the years.
The family are now fighting to raise funds to get Mark potentially live-saving treatment, to keep those living room training sessions going and much more.
Dendritic Cell Therapy is a breakthrough treatment that has an estimated 75% chance of killing the cancerous cells. You can donate to the family's fundraiser via their GoFundMe page.