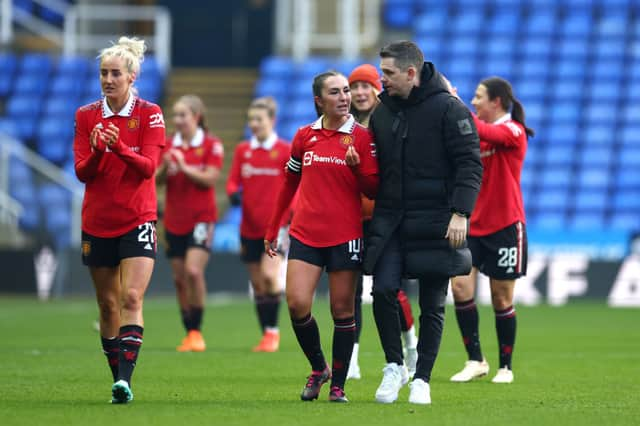 Manchester United took a vital three points in the race for the WSL title last week when Rachel William's 87th winner at Reading saw the Red Devils take top spot in the league.
Head coach Marc Skinner had more than just three points to celebrate too as he added a trio of new signings to his ranks with Estelle Cascarino, Jayde Riviere and Lisa Naalsund all joining United in the past week.
However, the team's focus switches to the FA Cup this week as they travel to Championship side Sunerland.
Skinner spoke to the media in the run up to the weekend game on Wearside and here are all the main talking points from his press conference:
On when Jayde Riviere and Lisa Naalsund are likely to be in action
"Jayde is on the pitch. She is doing active recovery. She is probably 5 or 6 weeks until she finishes her rehab. She passed all her medicals.
"More importantly in this window with the three girls was that the last window, the people that came in we're exceptional but it was more a short term process. We have planned ahead and these are players that we think can add in not just the short term but the long term. Jayde is well on schedule for what we want from her. I'd imagine around mid-March to late March for her to be ready - that's our plan.
"For Lisa, she has just came out of an off-season. She's again going to be 5 or 6 weeks away but the foresight for those is to add difference beyond rather than just the here or now. We've been doing exceptionally well in the here and now - so for us, it was making sure we add quality. Estelle (Cascarino) is ready to go and likely to be involved on Sunday."
On the challenge of playing Sunderland away in the FA Cup on Sunday
"I've known Mel (Melanie Reay - Sunderland manager) a long time. I've played against her at Birmingham and her team are always exceptionally well coached, well driven and purposeful and I'm expecting exactly the same.
"They are very good in structure and can flip in and out of shape. I'm expecting a tough game and for them to keep it tight. I expect them to make it uncomfortable for us but I also expect us to raise our standards that hopefully Sunderland can't achieve - and that is nothing against Sunderland by the way because watching the Birmingham game it was a 3-1 win against a very good team, and they also beat Durham 3-2 at home. That's six goals - they can score goals for sure.
"I'm expecting a team that will be very much up for trying to progress themselves. It'll be a very tough game but we will focus on the qualities we have from now until the end of the season."
On where Estelle Cascarino will play for Man Utd
"Estelle can play at left sided centre half, she has played left back before but it is not a position I feel she will want to be at her very best.
"For us, we see her more as a central midfielder. As we move forward in our model, she will be able to drop back into a temporary back three for example. She would be able to give us that balance of the left sided nature, her ability to be aggressive in the tackle. These are all the types of characteristics we've been looking for. I think there's more to come from Estelle.
"When we look at her PSG moments, it was very much winning the ball and giving it to someone else, she knows there's much more than that. She has spoken about it, we have spoken in depth about that with each other.
"What it does do is open up so many little niches in the game of having the left sided balance in central midfield."
On squad rotation
"Full strength could be any of our players, right? I know we're talking about the consistency of teams. I've heard managers get a little bit of stick for not rotating teams but obviously it is working, so why do you have to?
"The reality is our players know exactly where they are and know exactly what their realities are, it's a competitive team. They want to be part of a competitive team. For us, I wouldn't see it as rotation, I'd see it as ways in which the different tools could win the game for us. The players know that, they all have different skill sets. All of them very, very good - they wouldn't be at Manchester United otherwise.
"But sometimes, they want more minutes because that's the nature of the game. If we were in a 40 or 50 game season they'd all have minutes because that's the nature of it. As we grow the league and the amount of the teams in the league it will change - I haven't picked my team yet, I'll wait til the last training session of the week to do that and forumlate ideas.