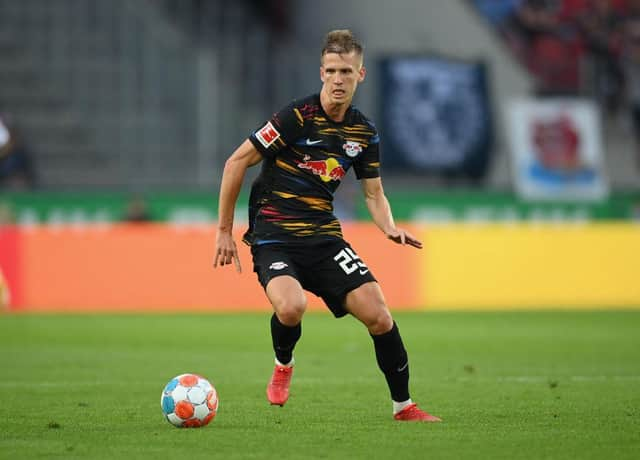 Manchester United have reportedly opened talks with Spain international Dani Olmo over a potential move to Old Trafford.
According to an update from El Nacional, the Reds are keen to bring the 23-year-old playmaker to England, but could face competition for his signature from Barcelona.
Olmo is currently on the books at Bundesliga outfit RB Leipzig, but started his career at Barca's famed La Masia academy, with the Catalan giants eager to secure a reunion in the near future having supposedly failed with a late move for the player in the summer.
Who is Dani Olmo?
Olmo's rise to the top has been a little unorthodox.
Having spent time with both Espanyol and Barcelona as a youth, the versatile playmaker got his first real break in senior football after sealing a move to Dinamo Zagreb in 2014. He was just 16 at the time, but had made his first team debut before he turned 17.
From there, Olmo went from strength to strength in Croatia, so much so that earned a move to Leipzig in January 2020.
Still only 23, he has been capped 16 times by Spain, and featured regularly in their run to the semi-finals of Euro 2020.
Capable of playing as an advanced midfielder or a wide attacker, his reputation seems to be rising almost exponentially.
How likely are Man United to seal the deal?
It's quite difficult to say for certain.
On the one hand, El Nacional are fairly adamant that discussions are underway between United and Olmo's representatives. Now, obviously that doesn't take into account the agreements that would have to be met with his current employers, but at the very least, it shows some modicum of intent.
Whether United have enough pulling power to outstrip Barcelona remains to be seen, however.
The Spanish giants aren't the irresistible force they once were, but it is understood that Olmo would be open to the prospect of a return to Catalonia, and with Ousmane Dembele's exit looking like an increasing possibility, it could be a move that benefits both club and player.
What are the fans saying?
It's safe to say that a lot of fans aren't impressed.
One of the suggestions made by El Nacional is that Olmo could be brought in as a long-term replacement to Paul Pogba – a point which several fans have disputed, with several more arguing that this latest link is likely to be another attempt from United's owners to placate a frustrated fanbase.
Conspiratorial? Perhaps, but it certainly speaks to the mounting discontent among supporters.
@aijukaT97 tweeted: "Spin spin. They [Pogba and Olmo] don't even play the same position lol"
@Cr7goat11655629 tweeted: "We already have Donny. Need to sign a DM"
@footboxing tweeted: "Every time it hits the fan the transfer leaks start. Still falling for it? Then more fool you"