'We wanted more': Lionesses stars from Man City and Man Utd address World Cup final loss with emotional posts
Lionesses stars such as Mary Earps and Chloe Kelly took to Instagram in the wake of their World Cup final defeat to Spain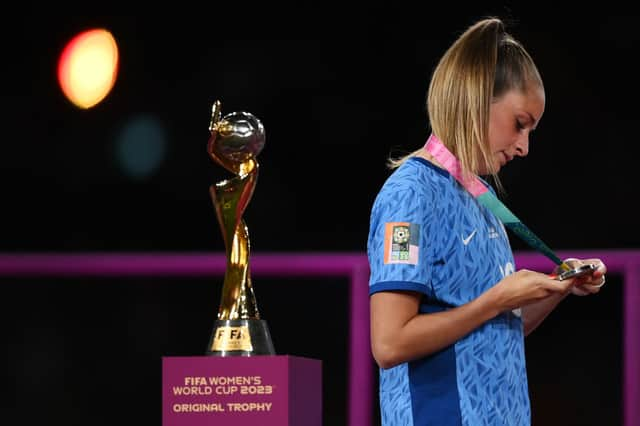 A total of 9 players from both Manchester clubs made up the Lionesses squad that made it all the way to the Women's World Cup final for the first time, with the likes of Lauren Hemp, Mary Earps and Alex Greenwood all playing huge roles in the Lionesses memorable run to the final.
Sadly, Sarina Wiegman's side fell at the final hurdle as they lost 1-0 to Spain in the Sydney showcase but with the squad now touching down back on UK soil, they have taken to Instagram to give their thanks for a memorable month down under.
"We created history - but we wanted more. So much more" said City star Lauren Hemp, who scored crucial goals against Colombia and Australia in the knockout rounds.
"This tournament has brought some unbelievable highs but ultimately we just fell short. Thank you so much for your support back home and in Australia. We felt you. It'll hurt for a while but we'll come back even stronger. Proud as always" added Hemp.
Manchester United midfielder Ella Toone posted "It will hurt for a while. Nothing but proud of this team. We will be back! Thank you so much for your support. We will be back", while her Red Devils team mate Katie Zelem added: "Not what we wanted but still something we should be so proud of. A tournament of many first. History makers. Your support has been incredible and we felt it every step of the way. The Lionesses are here to stay."
Mary Earps, who saved a 68th minute penalty in the final, was visibly upset when the whistle blew to signal the end of the Lionesses dream at the weekend simply posted a broken heart emoji on her Instagram page.
Manchester City defender Alex Greenwood, who many pointed to as being England's player of the tournament admitted "this one will hurt for a while" before adding: "I just want to say thank you to the whole team I have just spent the last 9 weeks with. It was an incredible journey with amazing people. I am so proud of you all.
"Thank you to our fans, here and at home your support has been unbelievable and we are so thankful for that. Sorry we couldn't bring it home. Humble in victory, gracious in defeat, we will be back."
Penalty hero in the last 16 win over Nigeria, City star Chloe Kelly echoed Greenwood when she wrote: "Thank you England, from the fans back home to the fans who travelled, your support is what keeps up going and it's going to be needed now more than ever. I'm sorry we couldn't bring it home. We'll learn and grow.
"We'll keep pushing forwards as one" she added.
The Lionesses return to action on September 22, when they begin their UEFA Women's Nation's League campaign against rivals Scotland at the Stadium of Light, Sunderland. Tickets can be purchased here.