Kevin Pietersen draws likeness to grouchy Man Utd legend as football fans see startling Ashes outburst
Kevin Pietersen seemed to put on his best Roy Keane impression as he slated the England cricket team's performance in Day 1 of the second Ashes Test.
Watch more of our videos on Shots! 
and live on Freeview channel 276
Visit Shots! now
Former England cricket star Kevin Pietersen turned into a famously grouchy Manchester United legend as he gave his thoughts on the first day of Ashes action at Lord's on Wednesday afternoon.
The South Africa-born batsman is a Chelsea fan, having completed rehabilitation at Stamford Bridge and striking up friendships with Frank Lampard, Ashley Cole and John Terry. However, Pietersen is also known to have had a soft spot for Manchester United in the past thanks to his love for Cristiano Ronaldo.
The cricket legend now works as a pundit and was on hand for Sky Sports to share his thoughts during a break in afternoon play at the second Test.
England had endured a tricky start to the meeting as Australia racked up the runs with little threat coming their way down a tricky wicket. Pietersen turned into a younger version of Red Devils legend Roy Keane as he scowled into his microphone by the pitch. He said: "It's just not good enough, it really isn't.
"These guys are expected to bowl Australia out today and it's just getting sloppy. Not enough balls in the right area. And the speeds haven't been up.
"[Ollie] Robinson, in his first couple of spells, was bowling at 78 miles an hour and David Warner was sweeping him. It all just looks a little bit too easy here for Australia. Not a lot has caught my eye from an English perspective, it has been shambolic. Absolutely shambolic.
"You have overhead conditions, you have a wicket that suits your bowlers and you have bowlers running in at 78, 79mph.
"Now it is one thing to have, walking here and swanning around and saying 'hey this is a wonderful team to play in, we are creating the best environment'. But this is not Ashes cricket. I've played Ashes cricket, I've played 13 Test matches against Australia."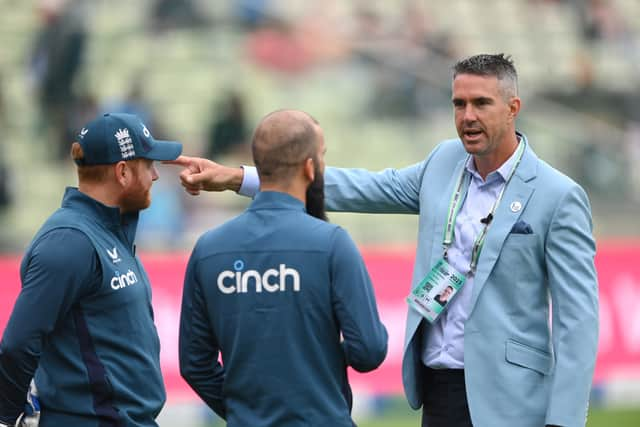 It didn't take long for Pietersen to get comparing the modern-day game with when he played, a move straight out of the Keane punditry playbook.
He continued: "It is all too easy and it is all too nice. Are you telling me Ricky Ponting in 2005 would have been talking to Geraint Jones?
"Do you think Michael Vaughan would have been standing next to Justin Langer and saying 'hey mate, what a cool day. Look at this, it is overcast, it is beautiful'. Are you joking? Are you absolutely joking?"
Cricket fans watching the punditry joked that Pietersen was 'going full Roy Keane mode' and praised his 'fantastic Roy Keane impression'.
One viewer said: "Never thought my shock of the year would be Kevin Pietersen as a pundit being the Roy Keane of Cricket."
Another added: "Enjoying Kevin Pietersen having a stab at becoming the Roy Keane of cricket commentary."
It's not the first time Manchester United fans will have seen the cricketer mentioned alongside their club. The club shared an image of Pietersen in 2022 ahead of the T20 World Cup but the batsman demanded it be taken down due to Erik ten Hag's decision to freeze Cristiano Ronaldo out of the side.
Writing a seething Instagram comment, Pietersen said: "Please take my picture down? I don't want an association with a club that's managed by a clown who is completely disrespecting the greatest footballer of our time.
"[Cristiano Ronaldo] is the BOSS! That clown who no one will ever remember needs a wake up!"