Jude Bellingham is reportedly being monitored by some of Europe's top sides, including Manchester United.
The midfielder is one of the most-coveted young players on the planet and has impressed for Borussia Dortmund domestically and in Europe, as well as on the international stage for England.
He's expected to play a big role for the Three Lions at the World Cup later this year, where he'll once again be in the shop window.
United have had a long-standing interest in Bellingham since he played for Birmingham City. In fact, he turned down the chance to join the Red Devils in 2020 and instead opted to sign for Dortmund, meaning there may be some unfinished business surrounding this particular transfer saga.
What's been reported?
As per The Athletic, United will face competition to sign the youngster next summer from Liverpool, Real Madrid, Manchester City and Chelsea.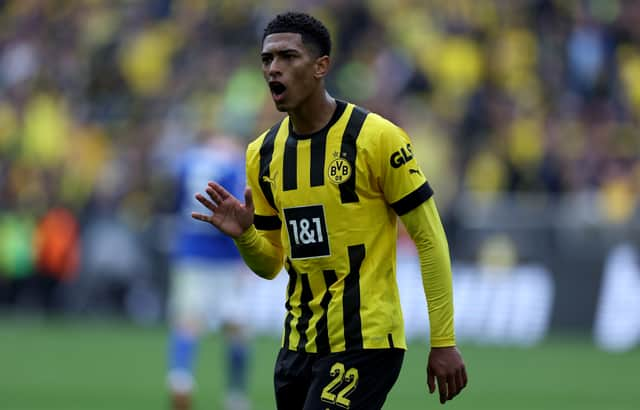 They add Dortmund's resolve to sell Bellingham could be tested as, by that stage, he will have just two years remaining on his contract at the Bundesliga club.
Dortmund also plan to offer the midfielder a contract extension and are 'not resigned' to losing him next summer. However, should he depart, The Athletic add it will cost a prospective buyer around £130m, but football.london claim that fee is closer to £150m.
Although a return to English football seems most likely for Bellingham, Spanish reporter Jose Alvarez Haya said recently on El Chiringuito that the player favours a switch to Real Madrid.
Elsewhere, England team-mate Declan Rice explained earlier this week why there's such strong interest in Bellingham and what qualities he possesses.
"When I've played with Jude, I loved it," the West Ham United midfielder told talkSPORT. "I think he's energetic. He's strong, has self-belief, no fear.
"He's got everything as a 19-year-old, you know; he's a man, he has played on the big occasions already. He's ready to play. He's still only 19 – by the time he's 22, 23, he's going to be incredible."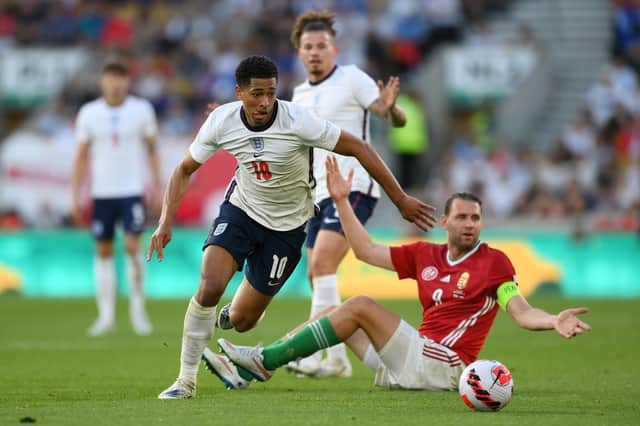 Could a transfer to Man Utd happen?
There's evidently a flicker of attraction from Bellingham at the prospect of joining United, as evidenced by his near move in 2020.
But he did ultimately opt against a switch to Old Trafford and there's every chance the teenager could do likewise this summer.
City, Liverpool and Real offer Bellingham a greater opportunity to win regular silverware, while United aren't even playing in the Champions League this season. Should that be the case in 12 months time, a transfer seems almost impossible.
One of Bellingham's most appealing qualities is his ability to carry out several midfield roles; retain possession, dribble forward, move the ball quickly and contribute goals and assists. Therefore, finding a place for him in the United team would be no issue, whether that's in a midfield three, alongside the defensive Casemiro, or even in a more advanced area.
Why did Man Utd miss out last time?
As is widely known, Bellingham toured United's Carrington training ground in 2020 and nearly opted for a move to the club over Dortmund.
Indeed, speaking in a recent interview Bryan Robson revealed he thought the Red Devils had secured his signature.
"We thought we had landed him at Manchester United a couple of years ago," Robson told The Sun."Unfortunately for us he decided to move to Germany. We thought we more or less had him.
"Myself, Sir Alex [Ferguson] and Eric Cantona all met him with his mum and dad at Carrington and after that meeting we thought he was coming to us."
Also present at United's training ground that afternoon was John Murtough, who conducted most of the process. A club source has told ManchesterWorld how 'the red carpet was rolled out' for Bellingham, but there was a sense that the presence of three seismic figures in United's history was seen as a tad over the top.
Regardless, the decision to move to Germany was based largely on the belief that Dortmund would offer Bellingham the regular football he needed to develop at the top level, plus allow him the opportunity to move again in a few years, something United may not have offered.