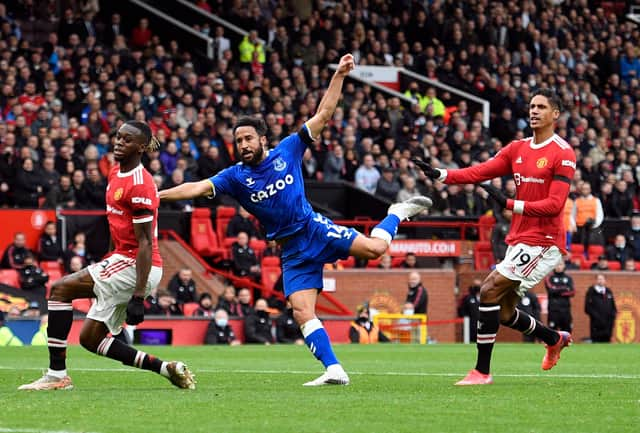 It's the second week in a row United have dropped points at home in the Premier League, with Andros Townsend's second-half strike cancelling out Anthony Martial's opener just before the break.
Everton's breakaway goal in the 65th minute, meaning the Red Devils have now kept just one clean sheet in the last 18 games in all competitions, dating back to last season.
After the Everton game, Solskjaer was asked about his side's inability to shut out the opposition at present.
"Well, the amount of goals we've conceded in games - if we concede one that's one too many," he told reporters via video link. "Today, it was about a counter-attack they threw at us.
"We were well enough organised to have dealt with the situation a lot better. You can focus on dropping deeper and allowing them to have the ball, but today we had 75% possession or whatever it was, and we got hit on one break there that cost us. And we lacked that cutting edge for that second goal."
It's that ability to be cut open with speed and penetration that is causing the Norwegian concern at the moment, with Everton's goal coming seconds after the hosts had an attacking corner at the other end.
And Solskjaer admitted United must find a way of cutting out those counter-attack chances. "I thought it was a good goal, good play," he said of Townsend's equaliser.
"But of course, you're sat there a little bit deflated and disappointed when we concede that one counter-attack. We were in total control, dominated the game - well, I can't say total control because we conceded a goal from a corner that we had.
"We were still four players behind the ball when the ball was delivered and we should have dealt with it. That was the same case against Villarreal, we had a few too many counter-attacks against us and that's something we definitely need to work on because we do face opponents more and more now that allow us to have more possession."
Solskjaer made a controversial decision to rotate Cristiano Ronaldo, Paul Pogba and Jadon Sancho for the Everton game, although all three were introduced off the bench in the second half.
Despite dropping points, the United boss insisted it was the correct choice to rotate his side, who have played seven games in just 22 days.
"You make decisions over a long season and we manage the players' workload and the decision was, for me, the correct one today.
"Anthony Martial came in and did well, scored a good goal. Edinson [Cavani] needed minutes and he could have had a goal [from a] good cross and good chance for him. We have to make those decisions at times."