'Isn't the problem' - Man Utd disagreements after club release Old Trafford statement
Manchester United are gauging the opinion fans ahead of a potential Old Trafford makeover, and supporters have been discussing the best fix.
Watch more of our videos on Shots! 
and live on Freeview channel 276
Visit Shots! now
Manchester United fans have been debating how to fix Old Trafford amid a fresh development.
United have sent out a survey to supporters to gauge how they feel the Theatre of Dreams can best be addressed.
According to The Telegraph, the Red Devils chiefs prefer to redevelop the current stadium than build an all-new venue.
They acquired the services of Populus and Legends International in April to oversee developments at Old Trafford.
United's owners, the Glazers, have been heavily criticised for allowing the stadium to slip into such a poor state.
And in response, they are looking to address the issues, by way of a redevelopment, with a new stadium looking unlikely, with preferred plans including a capacity increase to 88,000 by way of extending the South Stand.
But fans will get their say in this new survey, which has been sent out by email.
And in the meantime, United fans have been discussing the news on Reddit. Here's what fans have had to say.
@Tassen20088 - "The capacity isn't the problem with Old Trafford, the infrastructure and facilities are."
@MrPlays = "well i mean capacity could still go up and be a benefit. I'd have gone to 4 more games last season if I could have gotten tickets at the time."
@DanyStormBorne - "I disagree, it's so difficult to get tickets unless you're a season holder. Capacity needs to increase so more members can buy tickets."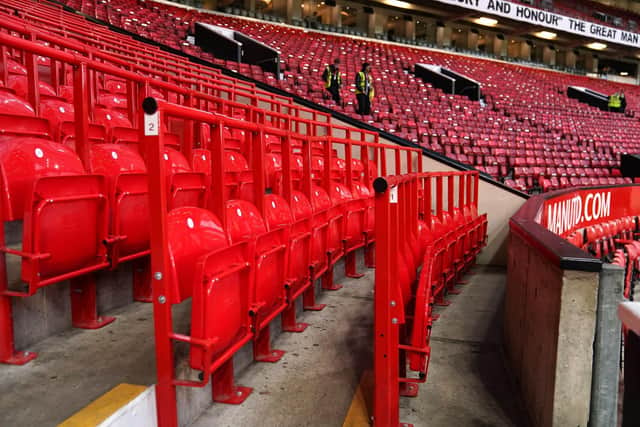 @Mesrosmith - "They need to keep the character of old Trafford. Just needs to be modernised where possible."
@Witter87 - "Definitely. No way should they build a new stadium, it just wouldn't be the same."
@Rackmo - "I said this in the thread when the very first time stadium redevelopment was brought up that there will be a point where the stadium will have to be demolished for a new one. Redevelopment or a new stadium, the biggest challenge the architects are going to have then is to maintain the character of the stadium, the core elements of it, that make it Old Trafford."
@Pielic - "Honestly hope they go for a new stadium, sometimes you need to go for something new, sad to say, but can't keep improving old stuff (in building more on top)."