Manchester United midfielder Fred has heaped praise on the club's interim manager Ralf Rangnick, dubbing him a 'great coach'.
The Red Devils' No.17 hailed his boss after their 4-2 win over Leeds United in the Premier League on Sunday.
Fred was a 67th-minute substitute for United and scored their third goal just three minutes after coming on.
Following the victory at Elland Road he spoke to ESPN Brazil about working under the Red Devils' interim manager and stated he and his teammates are 'evolving' under the German and are looking to finish the season in the 'best possible place'.
"We're evolving, we're working," Fred said.
"Rangnick is a great coach. It's also difficult to change coaches there in the middle of the season. But we are fitting in, we are working to understand his work. We're already much better at this.
"And we're trying to get the win every game. So this is important to us. (Sunday) was a great victory, Wednesday we have a big game and we have to stay focused. And as I said, it's keeping your head on straight, step by step, that we're going to finish the season in our best possible place."
There have been reports suggesting the atmosphere in United's dressing room has been uneasy as of late. However, the midfielder has shot down claims there are problems in the squad, calling the rumours 'fake news'.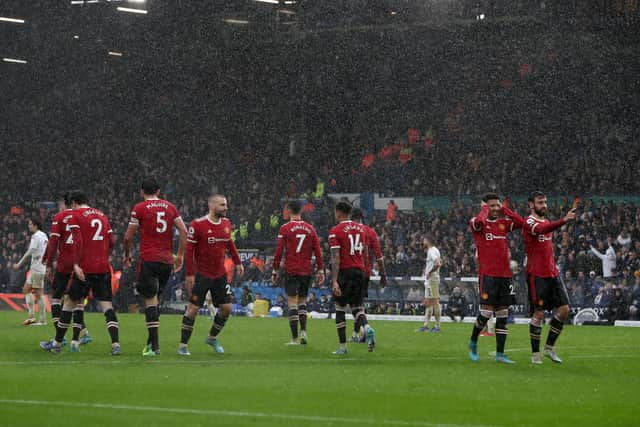 "Being one of the biggest clubs in the world, they will want to say a lot of things," he said.
"Unfortunately, it's normal. Even more so nowadays, anyone can access social networks and say anything there. So, it turns out that a lot of fake news circulates.
"But we in there [the dressing room] are calm about it. We know what really happens inside our locker room. You saw here today, we are very united. All seeking the same goal, which is to win the games. And we have to let things go and focus together and play as a team."
The Red Devils currently occupy fourth place in the Premier League table, four points ahead of West Ham in fifth and Arsenal in sixth.
Fred has been a pivotal part of United's squad this season, making 26 appearances in all competitions, scoring four goals and assisting his teammates on five occasions.