Goals from Luis Garcia and Mark Gonzalez (2) downed the Red Devils in the charity game, with Dimitar Berbatov netting from the spot for the hosts.
The game raised over £1.3m for the Manchester United Foundation, with 48,777 in attendance at Old Trafford ahead of a return leg at Anfield between the teams in September.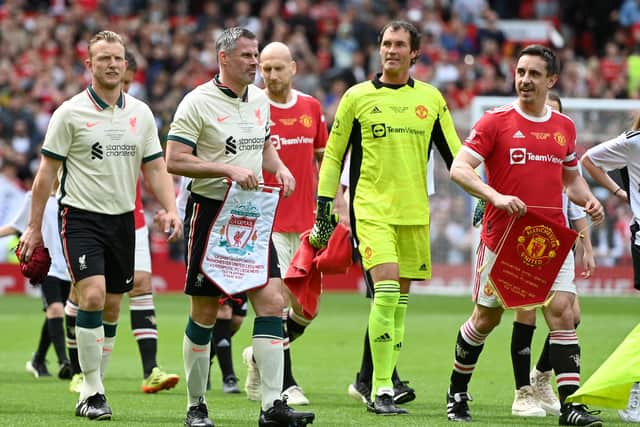 Neville and Carragher captained both sides on Saturday and, unsurprisingly given they mainly operated at opposition ends of the pitch, rarely came into contact with each other throughout the match.
However, one incident when their paths crossed came in the first half as Neville advanced down the right flank and towards the Liverpool box, before slipping just as Carragher closed him down.
"He bottled it," the former Liverpool centre-back told ManchesterWorld with a chuckle. "I think he saw who was coming and thought 'I'm not having that'.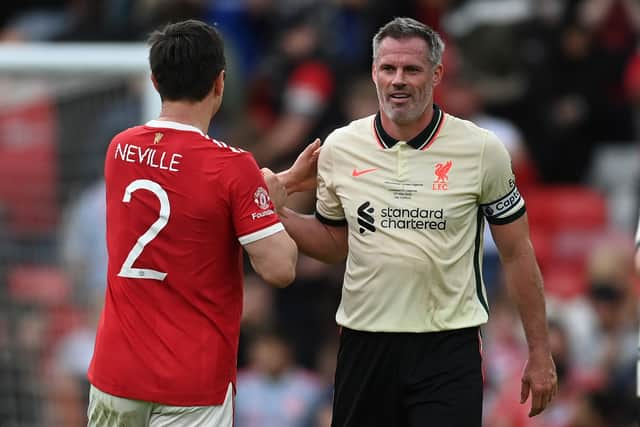 "I think he slipped, didn't he? He was getting up and down that line, but the legs don't move as quickly as they used to."
As the game progressed, Neville pushed higher up the pitch rather than holding his usual defensive position.
"He was confusing himself," Carragher joked. "Basically they lost all hope and belief then and starting playing as if it was in the schoolyard as kids. Then he didn't have to run back either - he has a big problem with running back at the moment."
An enjoyable afternoon for Liverpool
It was a rare Old Trafford win for Carragher at the weekend, with the 44-year-old one of the few who played the full 90 minutes.
The scouser is also looking forward to locking horns again in a few months' time with United, this time on Merseyside.
"It was lovely," Carragher responded, when asked how it felt to beat the Red Devils. "I was feeling worse before the game when I saw their team, but we got a few new players coming in, first time playing for the legends team, so it was a good performance.
"It's good to play," he added. "They're not as serious as normal games but you don't want to embarrass yourself, you want to play with your mates and show you've still got it.
"It is nice to come out on top and we've got a return leg at Anfield in the future - we've claimed the first leg and we're still claiming away goals - they still count in legends football!"