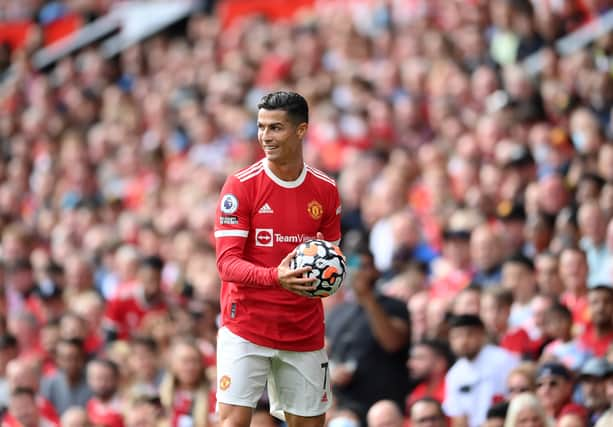 Cristiano Ronaldo may have only been back at Manchester United for less than a week, but he's already having a big impact on his new team-mates.
That's what Lee Grant revealed on Monday morning, after the Portuguese superstar netted twice on his Red Devils return as Ole Gunnar Solskjaer's men beat Newcastle United 4-1.
The night before, Ronaldo and the club's other new signings faced an initiation at the team hotel, as Grant detailed.
"Everyone will know, whenever anyone gets up, it's normally like, 'Here is a spoon, get on a stool or a chair and sing', the goalkeeper told talkSPORT.
"And I was one of the first ones because I am one of the older players, so straight away I am rattling the glasses to try and see.
"We had [Raphael Varane], Jadon [Sancho] had to do his little piece and obviously Cristiano. We were all sort of on tenterhooks thinking if he was going to get up and sing.
"But he got up, he was brilliant, obviously I am not going to disclose the contents of what he said, but it was interesting that was one of the points that he made about his nerves.
"He reiterated it post-match, so really interesting. But what I think that it does show, and something we are all aware as players, is that he really wants to be back here.
"He was incredibly excited at the opportunity to come back and play for the club, so that's incredibly humbling for Manchester United fans and anyone connected to the club. He is this global megastar that is absolutely ecstatic to be back."
Grant also explained that Ronaldo's high standards are already rubbing off on his new team-mates.
"To give you one instance of the impact he [Ronaldo] is having on the group, right," said Grant.
"This was Friday night in the group hotel. So, as you guys will be aware, you finish your dinner and usually on a Friday night you've got a few cheat stuff out. You've got some apple crumble or you've got a bit of brownie and cream or whatnot.
"I tell you now, not one player touched the apple crumble and custard, not one player went up for that brownie because everybody was sat down and one of the lads said to me, 'What has Cristiano got on his plate?'.
"So we were having a little goosey gander at what he has got and obviously it is the cleanest, most healthy plate you can imagine.
"And it just cracked me up how not one single player dared get up and have that junk food that was laid out."