Yet remarkably, Souness claimed Neville had said off air that Liverpool 'weren't that good' in a rampant second-half showing, a comment the latter denied making, although he did state that United were the better side in the opening 45 minutes.
"I think in the first half Manchester United were the better team. In the second half it was about United's capitulation," opined the former defender, during Sky's post-match coverage. "When you get beaten 7-0, it becomes about how bad the other team are," Neville added. Manchester United in that second half, Luke Shaw, [Raphael] Varane, [Lisandro] Martinez, [Diogo] Dalot, that midfield. They were an absolute shambles."
Neville, also claimed the result was a 'freak', something his colleagues contested given United have conceded four away to Brentford and six at Manchester City this season, while Neville reiterated his view that United have made huge strides under Erik ten Hag in recent months.
"They were going well," Souness fired back. "What that result has done today, there is not a worse result for Manchester United. If there's one team Manchester United don't want to lose to, heavily, deservedly so, no freak result, it was coming to Liverpool and getting turned over like this, in a manner which is embarrassing for Man Untied.
"This has been a really bad day for Man United, and it's no freak result, Liverpool could have scored more than seven. For me, they've got away lightly today. They didn't turn up."
"They beat Barcelona who were top of the Spanish league, and they beat them really well over two games," Neville retorted. "They're playing every three days, even the game they lost at Arsenal they played well. I watch Manchester United a lot more than you do, and that's nonsense. The reason it's a freak is because it's not happened for about 80 or 100 years."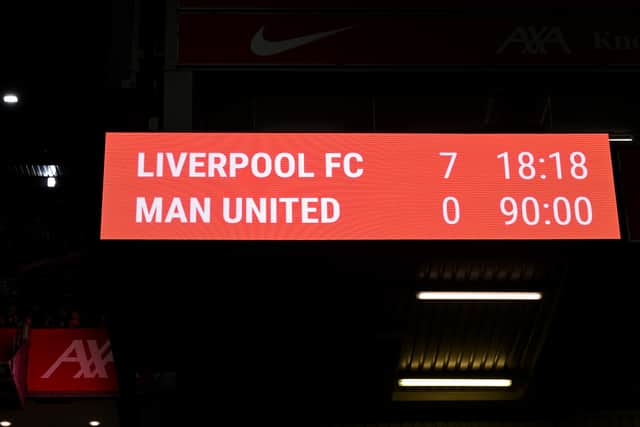 "You've lost six already," Souness said in response. "Is that a freak as well? Any time United lose It's a freak. It happens once a year to top teams. They lost six. They've been embarrassed. It's a recurring situation with this group of players. They got beat six by City, what is it you don't understand about facts? They concede four against Brentford, they conceded seven today, it must just be that these teams are lucky."
Neville disagreed and replied: "We lost six and five in one week [as players] and we still won the league, it can happen. It does happen. I think this was a disgraceful result but it's been out of character for this group and this manager over the last few months.
"Since Erik ten Hag got a grip of them two or three months ago, [Cristiano] Ronaldo left, that group of players have been tight, they've been spirited, they've gone every single week and they've been fighting every match. I've seen it with my own eyes. That second half, since he sorted the dressing room out, is a freak."