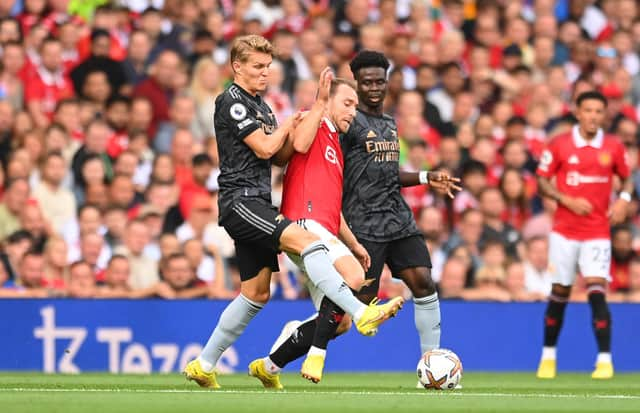 The Red Devils ran out 3-1 winners at Old Trafford to extend their unbeaten streak to four consecutive matches, but could have found themselves with a deficit to overcome in the early stages were it not for the actions of the video assistant.
Martinelli's strike was chalked off after Martin Odegaard was deemed to have fouled United midfielder Christian Eriksen in the buildup, keeping the score at 0-0.
Shortly before half-time, debutant Antony then scored an opener for Erik ten Hag's side.
But despite widespread debate over whether or not Martinelli's strike should have counted, McLeish is in no doubt that the right call was made.
Speaking to Football Insider, he said: "The one that was the strangest was Eriksen getting tackled unfairly.
"The guy [Odegaard] hit him in the knee. I'm sorry but when you are travelling at a certain speed and you are trying to manipulate the ball and you get hit, I couldn't believe it.
"I couldn't believe the pundits were saying it was a soft decision. It was an absolute stonewall decision.
"He has hit Eriksen and they went on to score the goal, let's be honest, the cameras don't lie. That is when VAR should be doing its work.
"It was a great decision by the referee despite learned pundits who have played at the top level saying it wasn't a foul, of course it was a foul.
"All day long it was a foul. When you hit someone in the side of the knee when he is about to execute a pass, it's a foul.
"Even if you think it is soft, it's a foul."