Declan Rice's future continues to be linked with a move to Manchester United, as the 22-year-old is said to be a 'top target' of the Red Devils.
Reports from The Sun claim a move would only materialise if a fee of £100m is submitted for the England international, however, West Ham United are in no panic to sell their star man.
There's no denying Rice's ability would significantly improve the Red Devils' midfield, with the 22-year-old regarded as one of Europe's best by his manager David Moyes.
"There's not many better," he said. "I think if you break Declan down, you might say: 'Well OK, I want you to become even better in your passing'.
"So you can look at Frenkie De Jong or you can look at Jorginho. You could look at people who are really, really tidy football players.
"But then if you looked at the other side of the game, Declan's as good as anybody I know at recovering the ball, and speed round the pitch. I can't really think of many other midfield players like Declan in that mould really.
"Rodri's slightly different in how he plays in a different fashion. But Declan's a wee bit of all round, and certainly can do different things and he's beginning to add goals to his game.
"There's probably not many better, but I think there's aspects of Declan's game that he can improve. We want him to become better at so many things, but he's been a revelation for us this season."
United currently have five senior central midfielders, who can also play in a holding role, with Scott McTominay and Fred the favoured duo in Premier League games.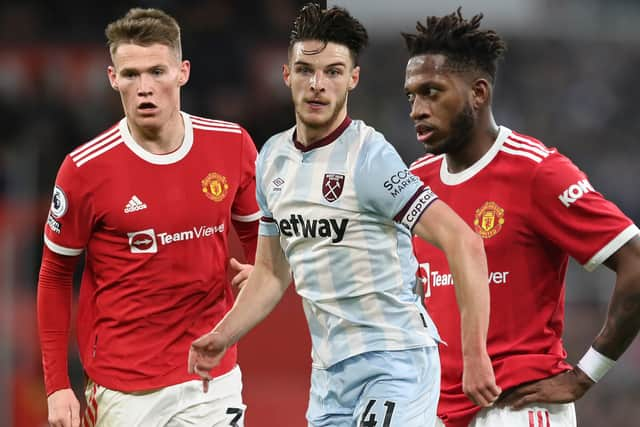 Dubbed 'McFred' by fans, the pairing have come under criticism for their inconsistent performances for the Red Devils.
But what do the stats say? Let's take a look at what Rice's strengths are compared to that of McTominay and Fred.
All stats have been accumulated from WhoScored.com and are based on their performances in the Premier League alone.
Of the trio, Rice has the highest average rating in England's top-flight with a score of 7.24.
His rating significantly trumps that of McTominay and Fred's, who are averaging a score of 6.84 and 6.83 respectively so far this season.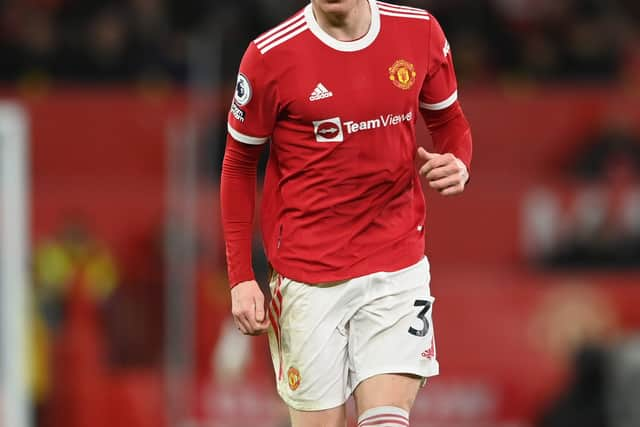 A key area of the game, especially if the Hammers and the Red Devils want to finish in a top-four spot.
This is broken down into tackles, interceptions, fouls committed, number of times dribbled past and blocks.
Of the five mentioned stats, Rice has a better score than the United duo in three of them, with him averaging more interceptions per game (1.8) than McTominay and Fred (both 1.1), more blocks (0.6 compared to their 0.4) and fewer times an opposition player has dribbled past him (1) with the Scot just behind (1.2) and the latter significantly worse (2.3).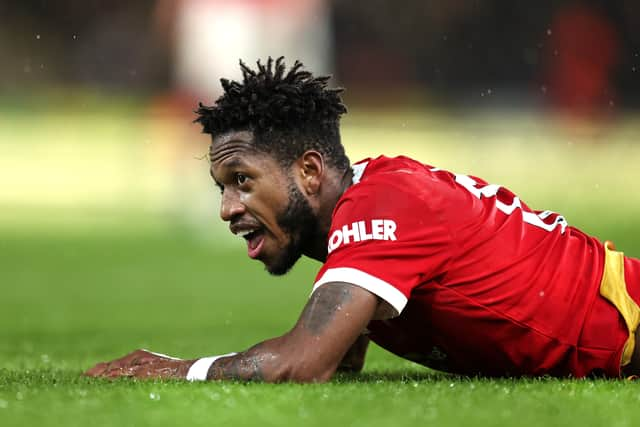 Though the trio would be in a holding-midfield role under Rangnick, offensive stats are paramount in order for the team to succeed as a whole.
They are broken down into eight areas, with goals, assists, shots per game, key passes, dribbles per game, number of times that individual has been fouled, the amount they have been dispossessed and bad control of the ball per game.
Offensively, Rice is ahead of McTominay and Fred in four of the eight stats, with the Englishman having the most number of assists (4) this season, more dribbles per game (1.5), less times dispossessed (0.4) and a few number of bad control per game on average (0.8).
However, Fred betters Rice and McTominay with two goals so far, one more than the duo, while he also has made more key passes (0.9) and has been fouled more (1.2) on average per 90.
McTominay only has more shots per game (0.8) compared to the others.
Further looking at passing, not just key passes per game, but other stats too, this is sectioned into five areas - average passes per game, pass succession, crosses per game, long balls and through balls.
Yet again Rice is the standout in terms of the above stats, with a higher number of average passes per game (55.7), pass success rate (90.3%) and long balls (2.7).
In terms of crosses per game and through balls per game, the trio have the same score of 0.1 on each passing average.
Overall it's obvious the impact Rice would have on the Red Devils' starting XI if he were to be signed, with these stats showing he would be a stronger player for the club in an all-round capacity.
His presence in the team would almost certainly lead to McTominay being dropped, with a more defensive-minded player, who can also contribute to the attacking phases of play needed at United.