Benfica striker Darwin Nunez has lit the footballing world up over the past year, leading to him being linked to some of the biggest clubs in the world.
If he is to make his big money move from his current side this summer, he will follow a long list of players that have made it big after moving from Benfica.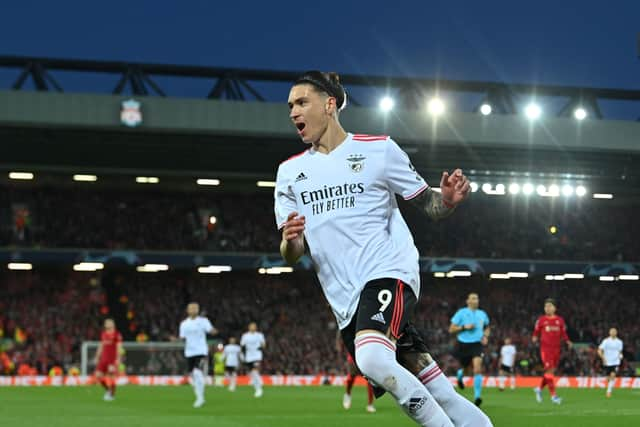 How much do Benfica want for Nunez?
Despite playing in a less attractive league, Benfica are asking for a hefty fee for the striker. TalkSport have reported that the Portuguese giants are holding out for around £68 million in order to let him leave.
With new manager Erik Ten Haag reportedly given a warchest this summer, coupled with a rumoured extensive clearout, the asking price should be achievable for United.
What would this mean for Cristiano Ronaldo?
With Ronaldo seemingly United's only out-and-out striker - with Edinson Cavani set to leave - a new striker was always needed.
It's unlikely Nunez will outright replace Ronaldo, but with the forward now 37-years-old, it's a tall order for him to be the main striker in all competitions for United.
Nunez is still raw, despite dazzling displays at Anfield and more, and will learn off of Ronaldo, easing the burden up top and being ready to be the main man as Ronaldo either leaves or retires.
How many goals did Nunez score this season?
Nunez joined Benfica in 2020, and has so far scored 32 goals in 57 appearances, which is an impressive return.
This season alone, he scored six goals in the Champions League in 10 appearances but his domestic form really shone, as he scored an incredible 26 goals in 28 games.
Why does this transfer make sense for Manchester United?
Despite being linked to Real Madrid and Liverpool, who have both had much better seasons than United, Nunez should pick the reds if the option becomes available.
At Liverpool and Madrid, a striker is not just a striker, they have to be playmakers and facilitators, as seen with Sadio Mane, Diogo Jota, Roberto Firmino and Karim Benzema.
Ten Haag prefers out-and-out strikers, as seen with Sebastian Haller at Ajax. A ten Haag striker is not expected to pick up the role of a number 10, and be a playmaker, they are simply expected to put the ball in the net, something Nunez can clearly do very well.
Who is Darwin Nunez?
Darwin Nunez is a 22-year-old Uruguayan striker who currently plays for Portuguese side Benfica.
Despite his young age, Nunez started his professional career with Penarol, where he came through the ranks as a youngster.
He only made 14 appearances for Penarol, scoring four goals before moving to Europe in 2019.
In 2019 he moved to Spanish second division outfit Almeria for a rumoured fee of around £4 million. He averaged a little over a goal every other game scoring 16 goals in 30 games for the outfit.
Then, in 2020 and after just a solitary season with Almeria, he got his first big move as he moved to Benfica for a reported 24 million euros, a record for Almeria and the Segunda Division.
He has also made nine appearances for Uruguay at the highest level, scoring two goals.