When Manchester United won the Carabao Cup last month, eight-year-old superfan Harry Budd wasn't able to watch his side lift their first trophy in six years.
Sadly, the "cheeky, funny and very kind" chap didn't miss out on the cup action because of being unlucky in the ticket rush. Rather, he was too ill to stay awake and watch the win as his battle with bone cancer took its toll.
Late last year Harry first felt a pain in his right leg. Being a sport-loving youngster, his parents thought it may just be a case of growing pains or a knock picked up on the pitch when playing for New Mills Juniors FC.
Time on the sidelines didn't resolve the pain and soon Harry wasn't able to walk. The situation escalated and after a month of hospital appointments and tests, the smiling Red Devils fan was found to have a tumour just days after Christmas.
The Manchester United and local New Mills community are helping Harry in his fight to defeat cancer with treatment having to be received in Birmingham, 90 miles away from home in the Peak District.
Harry is having to undergo nine doses of chemotherapy and then potentially radiotherapy and an operation. His mum Becky says it'll be about a year of treatment in total.
She told ManchesterWorld: "The chemotherapy is obviously extremely tough for such a young lad. He'll continue to be in and out of hospital over the next year, and he misses his friends and playing football.
"Despite the pain he's in and the treatment he's already had to go through, he keeps a smile on his face - he's an incredible boy and you can't help but be inspired by him."
Harry is an avid United fan, an allegiance picked up from his mum and recently received a signed shirt from midfielder Christian Eriksen in an adorable video shared online by the family.
Becky said: "He's cheeky, funny, and very kind. He's extremely popular with his classmates and teachers, and his New Mills Juniors FC teammates.
"He lights up a room with that cheeky personality of his. He's been much missed at school already, by teachers and children alike.
"Thanks to this cruel illness, Harry has already had to take a break from his much-loved football, and he's hugely missed by his team, New Mills Juniors U8s. Most of his spare time is spent playing and watching football, and playing it on his PS4."
When not supporting the Red Devils, the youngster loves nothing more than turning out for The Millers. The local club have helped get behind a fundraiser set up by family friends to aid the family with travel costs and financial pressures from Harry's treatment. The club put on a family fundraiser event last month with funds from an auction and the live band fee donated to the cause.
Becky said: "All the support is so amazing and very much appreciated by us all. We cannot even begin to thank everyone enough and say how much it is helping us through this tough time."
The fundraiser has already raised over £19,000 online with 571 donors contributing to help the family and Harry.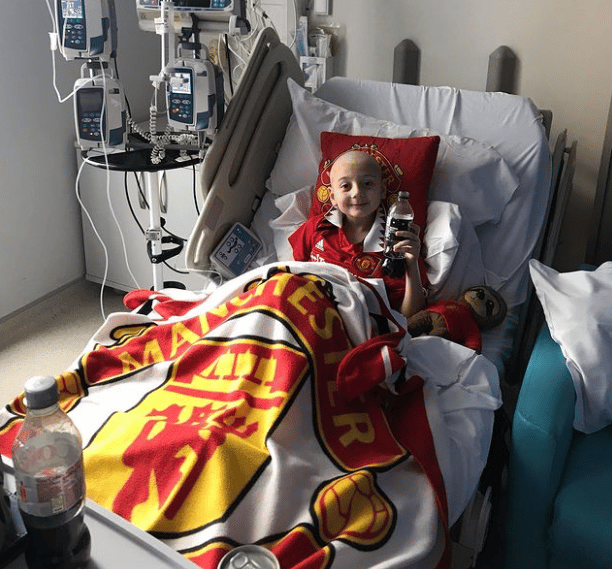 The GoFundMe page was set up by family friend Sophie Fryer who said: "Raising money for the family means that they'll be able to spend more time together, without worrying about travel costs. They won't need to worry so much about the impact of time by Harry's side and not working. And when he comes home again, they will be able to heat their home through the day without worrying so much about the extortionate bills this will now incur.
"They will, hopefully, also be able to buy the occasional treat for Harry, his sisters and his parents, Becky and Rob, to bring the odd bit of joy to this awful time."
Anybody wishing to donate to the fundraiser to support Harry and family can do so here.