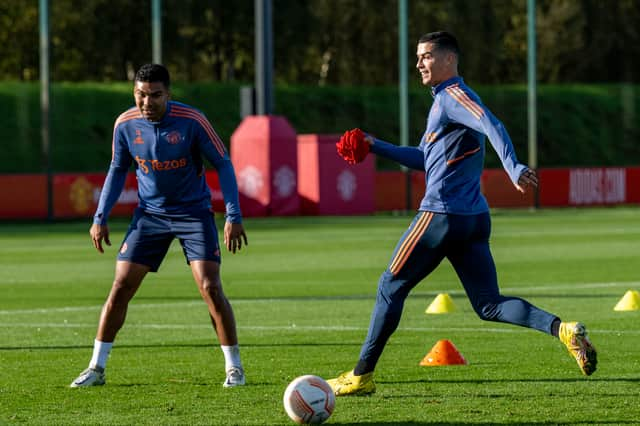 Ronaldo was also included in a video from training that appeared on the club's website. The 37-year-old took part in the warm-up with his team-mates and a keep-ball session. Also seen in the video were Harry Maguire, Aaron Wan-Bissaka and Donny van de Beek, all of whom have been suffering from injuries in recent weeks.
As per The Athletic, Ronaldo will be included in the club's squad for Thursday's game against Sheriff, with the striker speaking to Erik ten Hag about the situation over the weekend. Meanwhile, the Manchester Evening News claim the United manager's handling of the situation was 'well received' by the squad. They add that players were 'impressed by the delicate but authoritative way' he dealt with Ronaldo.
However, that contrasts with Rio Ferdinand's view, with the ex-United defender stating Ten Hag's lack of communication resulted in Ronaldo's outburst against Spurs. Speaking on his FIVE podcast, Ferdinand said: "I'm not sitting here saying he [Ronaldo] was right to do that. His actions are wrong but if you look at the bigger picture, this could be prevented. As a manager, that's your duty, you've got to look at the bigger picture.
"I don't think he should've allowed it to get to that point," he added. "You have to have the conversation and talk to Ronaldo, who, all his career, has mapped out season after season. Looking at the bigger picture, so he can prepare himself."
Elsewhere, the Sun report Ronaldo is 'open' to returning to Italy, with Napoli interested in signing the former Real Madrid and Juventus man, however his wages demands could be a stumbling block in any potential transfer.