The Portugal international sat down with the TV host for an extended chat, which aired on TalkTV on Wednesday night, with the second part to be shown on Thursday. But chief among those on his evidently pre-planned list of targets included Ralf Rangnick.
The German was appointed as the club's interim manager last season and, despite his extensive coaching career, Ronaldo claimed he had never heard of Rangnick before his arrival at Old Trafford.
The 37-year-old also took a pop at his current United team-mates, claiming that younger players today are too distracted by technology and don't want to follow his example. Ronaldo did, however, praise three of those he currently shares a dressing room in the last answer during that section of the interview.
The forward saved some kind words for Ole Gunnar Solskjaer, too. The ex-United striker was replaced as manager last term by Rangnick, and Ronaldo claimed his former team-mate will go on to achieve great things in the future. Here's every word that was said about Rangnick, Solskjaer and the current United team…
Rangnick
"After Manchester United sacked [Solskjaer] they bring in a sporting director, Ralf Ragnick, which is something nobody understands. This guy is not even a coach. That Manchester United bring in a sporting director surprised not only me, but all the world.
"If you are not even a coach, how are you going to be boss of Manchester United?
"No [I hadn't heard of him]. The people I speak with, nobody knew who he was. I respect and have to call him [boss] because it is the job. All the coaches in my career I called them 'boss'. But deep inside me I never saw him as a boss because I saw some points that I never agreed and he stopped in time as well. If you're not a coach in the last five years, you're going to lose the identity to be a coach. It surprised me a lot but also didn't surprise me because the structures they keep the same. The coaches didn't surprise me and it was a tough job.
"There were some points I didn't agree [with]. I have always been beside the best coaches in the world: [Zinedine] Zidane, [Carlo] Ancelotto, [Jose] Mourinho, Fernado Santos, [MAx] Allegri, so I have some experience because I learn from them. When you see some coaches that come in and want revolutionary football, I don't agree; I have my opinion. It's part of the business. I'm at the club to win and with my experience I want to help - but some coaches don't accept, that's part of the job.
"No [Rangnick didn't know what he was doing]. He didn't know the dimensions of the club, the history of the club, which surprised me even more. When you sack Ole Gunnar Solskajer, you should bring a manager, not a sporting director."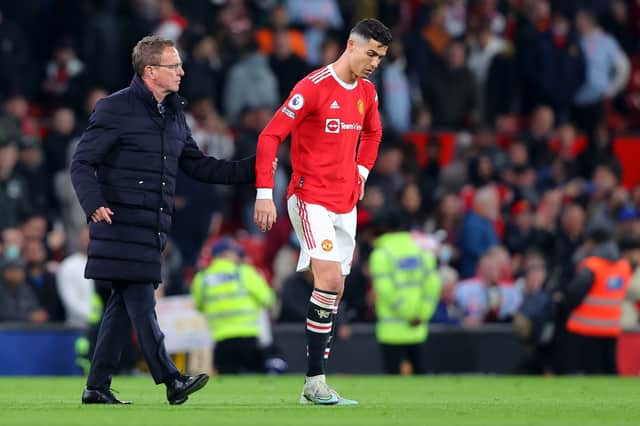 Solskjaer
"I love Solskjaer. I think he was a top person. Coach… he didn't look for what he wants. It's hard to [manage] after Sir Alex Ferguson. But I think he did a good job. For sure, he needed more time. But I never doubt that he is going to be a good coach in the future. It was a good experience; I was so pleased to work with him even for a short period."
Current United squad
"I don't think they don't respect the older players or the experienced players; I don't think that is the best word. But they live in a different era. I can see with my kid, 12 years old, that the mentality is not the same, that they have not suffered.
"The hunger [is the difference]. I think they have things more easily, they don't suffer. They don't care and I don't mean just in Manchester United, but all the teams. All leagues in the world, the younger [players], they are not the same as my generation. But you cannot blame because that is part of life. The younger generations [have] the new technology that distract them from other things. They listen but it goes in one side and out the other side. It doesn't surprise me, but it is a shame because if you have a good example in front of your eyes and you don't copy, for me, it is kind of weird. I remember when I was 18,19,20, I was always looking to the best players [Ruud] van Nistelrooy, [Rio] Ferdinand, Roy Keane, [Ryan] Giggs - that's why I've had this longevity, because of I take care of my mentality, my body, my head. I saw these guys and I learned from them.
"I am not the type of guy who prefers to give advice, I prefer to be an example. I am an example. I am there every morning; I do the same stuff. I am probably the first one to arrive and the last one to go out. I think the details speak for themselves. I like to lead by example and some follow me, not [many].
"They don't care, some yes, but most, no. But for me it does not surprise me. They are not going to have long careers in my opinion; it is impossible. You see my generation, you see many players they reach 36, 37, 38 in a high level. I think this generation, you are going to count on your hand how many reach that level. These years of preparation help a lot.
"If you tell me what I see in Manchester United, I can tell you probably [Diogo] Dalot. He's an example; he is young but very professional. I don't doubt that he is going to have longevity in football because he is young, smart and very professional. You have a few more like him: [Lisandro] Martinez, Casemiro is in his 30s."