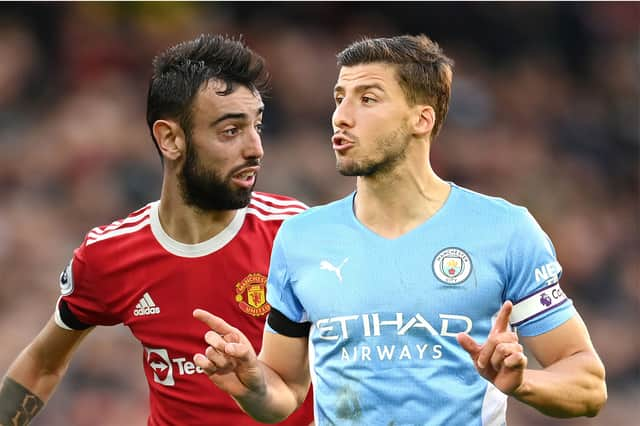 Rúben Dias is one of the most hard-working players in the Premier League, a study has revealed - with Bruno Fernandes also ranking near the top of the player list.
A study by FIFPRO, a footballers' union, monitored players habits through their player workload monitoring platform (PWM).
Across the 350 players, which included 275 males and 75 female players, it was revealed that Portuguese defender Dias ranked highest when it came to playing time.
The 24-year-old has racked up 198 appearances, equating to 18,361 minutes across three seasons for City, his former club Benfica and Portugal.
The study also looked into the 'critical zone' which is where a player doesn't have as much recuperation time from their last match, featuring less than five days before and also playing more than 45 minutes in both games.
In the 18,000 minutes that Dias played, 73.3% of them were played with less recovery days, highlighting how vital his contribution is for club and country that he has been chosen so regularly by his respective managers.
Dias' post-season breaks have been relatively short too, coming in second to Zenit and Russia striker Artem Dzyuba. Over the last three seasons, he has an accumulated amount of just 33 days off.
This comes as no surprise, given his involvement at EURO 2020 for Portugal this year but shows how early he returns for pre-season.
Could Bruno Fernandes do with a rest? (Photo by Michael Regan/Getty Images)
The study also puts a spotlight on Manchester United's Bruno Fernandes, who worked hard during his debut campaign at Old Trafford. Fernandes, who joined from Sporting CP in January 2020 became a pivotal part of Ole Gunnar Solskjær's side and the findings back that up with the minutes he played.
In his first full season, he played seven consecutive months from last October to April for both the Red Devils and Portugal. What researchers found alarming is that 68% of his minutes came in the critical zone, meaning less recovery time, increasing the chances of injury. He played the entirety of February and a third of his appearances came on less than three days' rest.
Last season, United at one point, found themselves playing four matches in eight days, given their involvement in the Europa League and the Premier League, creating a congested fixture list.
Why does this all concern the union?
It brings up the debate on how the football calendar can be realigned following the effects of COVID-19, which saw seasons completed in a short period of time, as well as a quick transition into the next.
Champions League games are usually played on a Tuesday or Wednesday, whilst on alternate weeks the Carabao Cup and the FA Cup were played in midweek. Players would then be expected to play on either Saturday or Sunday, depending on what league they played in.
Midweek cup and European ties was a key factor in players playing in the 'critical' zone with 59% of minutes in domestic cups and 62% in Europe, compared to the 46% in league games.
Researchers hope the findings may prompt managers to reconsider always playing their best players to avoid burnout and fatigue, as well as minimalising the risk of injury.