Manchester City star Kevin De Bruyne had fans complementing his 'world-class' acting as he starred in a new advertisement for McDonald's. The clip is being used as a Belgian promotion but the midfielder was spotted filming the ad in Manchester last month.
In the video, De Bruyne appears alongside wife Michele Lacroix as the two queue up for a McDonald's drive-through. The couple believe they are getting some preferential treatment for their celebrity status but end up being cut up by a member of the public as the fast food chain tried to make the point that it treats all customers the same.
De Bruyne shared the short video on Instagram on Monday morning, writing "we're loving it" as the caption.
Fans were quick to drop some witty comments on the video. One wrote: "Is this why you been tired lately? More fresh fruits Kev, less McDonald's."
Another said: "Even the best assister in world football needs an assist sometimes."
Meanwhile, some fans laughed at the fact that De Bruyne only managed a couple of grunts in the script, with the few lines that there are being left to Lacroix. "The poor man didn't even talk," one follower joked.
De Bruyne was seen shooting the clip on 16 February, the day after a 3-1 victory against Arsenal at the Emirates Stadium.
One onlooker told The Sun: "Kevin De Bruyne has certainly been a busy boy this week. I was surprised to see him back at work so soon after the game. He looked a bit tired, which is not that surprising given his efforts."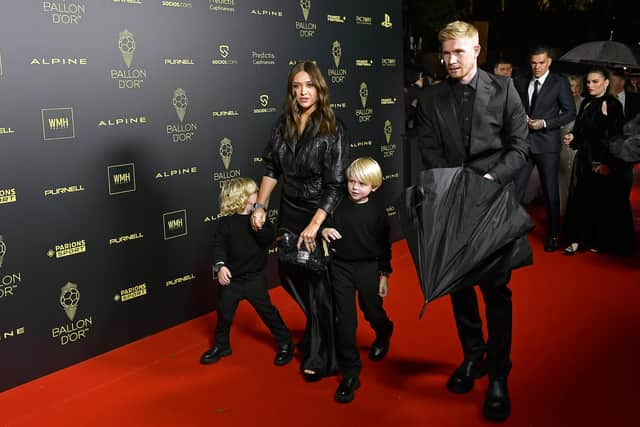 Who is Kevin De Bruyne's wife Michele Lacroix?
De Bruyne married wife Michele Lacroix in 2017 but the pair first met back in 2014 when the midfielder was playing for Wolfsburg in the Bundesliga.
Lacroix is also Belgian and studied at the University of Hasselt. The couple welcomed their first baby, Mason Milian De Bruyne, in 2016. The pair then had baby boys Rome in 2018 and Suri in 2020.