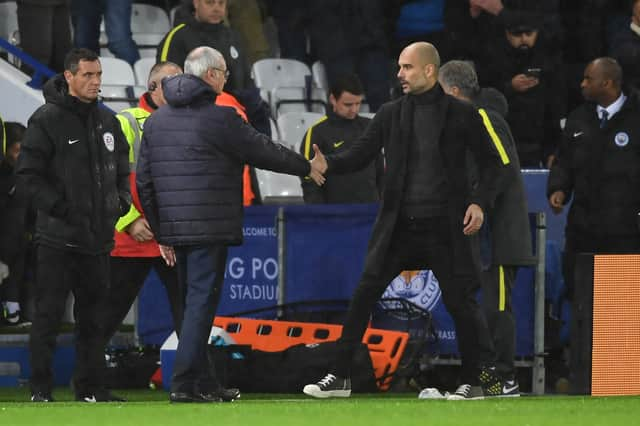 Guardiola has high praise for Ranieri's achievements at Leicester City Credit: Getty
Manchester City will be looking to maintain their impressive league form when they travel to Vicarage Road on Saturday to take on Watford.
The Sky Blues have never lost to the Hornets in the Premier League, winning 10 of their 12 meetings and drawing twice. However it's not all doom and gloom for the Watford faithful as current manager Ranieri is undefeated when facing the reigning champions in the competition. The 70-year-old has won in eight of his nine meetings with the club, drawing once.
The Italian, who has experience managing in the top-flight in Italy, Spain, France, England, as well as the Greek national team, received high-praise from Pep Guardiola in the City manager's press conference on Friday, claiming football should be "grateful" for people like Ranieri.
Pep Guardiola, Manager of Manchester City looks on during the Premier League match between Manchester City and West Ham United at Etihad Stadium
"Football has to be grateful to still live with important people like Claudio Ranieri," the Spaniard said.
"What he has done in his career is amazing, Leicester [City] is the benchmark. In Spain, Italy, France. I admire this type of person. What they have done, have the passion, energy to go there."
Guardiola was referencing Leicester City winning the Premier League under Claudio's management in the 2015-16 season - an achievement that will be remembered by many club's fans for years to come.
The 70-year-old now finds himself in a different predicament, steering Watford away from the relegation zone.
Things didn't go to plan initially for the Hornets under the Italian, with them falling to a 5-0 drubbing by Liverpool. However, Pep went on to say how despite the result, Ranieri's passion following the game is one reason to "admire" him.
"When they [Watford] lost against Liverpool, the press conference after the confidence he showed, I would be depressed the first game to lose the way I lose and go there [to say] 'follow me we are going to win'. I admire a lot still they have this passion, this energy," he expressed.
Guardiola finished by saying how he is looking forward to seeing the Hornets' boss on Saturday and that City will have to be "careful" to maintain their good form in the league.
"[It] will be a pleasure to see him again, I know the results against him always aren't good. I know what they want to do, and what they do, they do really well. Against [Manchester] United they played well, against Chelsea they did a really good game. They are close results. Against Leicester they lost but had more chances. Every game is there. We have to be careful tomorrow and do another good performance."