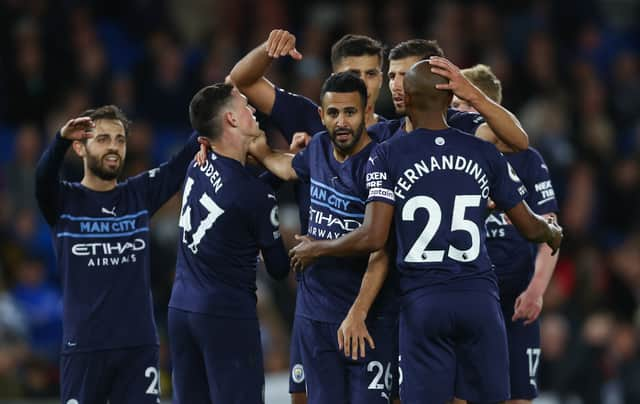 It was a 9.5 kind of performance for Manchester City for plenty to decipher. (Photo by Clive Rose/Getty Images)
Crest is Best?
There were so many positives to that performance that some may have not noticed a piece of history.
Man City debuted their new third strip in this match. History was made as for the first time since 1976, the club played a competitive match without a badge on their shirt.
It is incorporated in the design of the shirt but it is not the centerpiece and instead, there is just an emphasis on the name of the club.
They were described as 'bold' when they were released, but I'm not sure many will care how City look when they deliver the goods on the pitch.
Pep Roulette
Guardiola could afford to drop both Kevin de Bruyne and Riyad Mahrez to the bench for this one.
Both played in the midweek win over Club Brugge and Pep opted to start from the bench where ultimately they weren't needed.
It's this rotation that is a nightmare for Fantasy Football players, but ultimately it shows a sign of the squad depth at City.
The attacking trio of Jack Grealish, Phil Foden, and Gabriel Jesus did their jobs well and that first-half display ultimately proved the City chief right in changing his lineup.
This doesn't mean City can just move on without De Bruyne though, as his introduction proved just how important he is when it's against tougher opposition.
He was subbed on in the 77th minute and made four chances, creating more attacking opportunities than any other player.
Coming of Age for Foden
Earlier this month, it was claimed that Foden could play in five positions for City, but this new role as a false nine is one that Foden is excelling at.
Two goals and an assist today in addition to the one goal he assisted on Tuesday, show he's that alternative option in attack.
Asked by Sky Sports in his post-match interview how he's finding the role, he said "I'm enjoying it, I can drop deep and get on the ball and pick the passes off, It's a new role for me."
This performance has had City fans and neutrals purring over the ability of the 21-year-old. Foden is a Ballon d'Or nominee and he is doing no worse to persuade the footballing public to put their trust in him.
A day of landmarks
The stats just keep on coming for City with history being made. This was the 450th Premier League win for the Citizens, becoming just the sixth team to do that.
Goalscorer İlkay Gündoğan, the opening scorer, claimed his 100th win in the division.
Bernardo Silva, who put in another impressive display, registered his 50th away win, playing a big part in what City were doing going forward.
Meanwhile, De Bruyne is now in the top 50 for all-time appearances, having come on for his 272nd outing.
To top things off, City are now less than 1000 goals off from reaching 10,000 since their inception in 1892. Foden's second goal was their 9,100th before Mahrez added the 9100st.