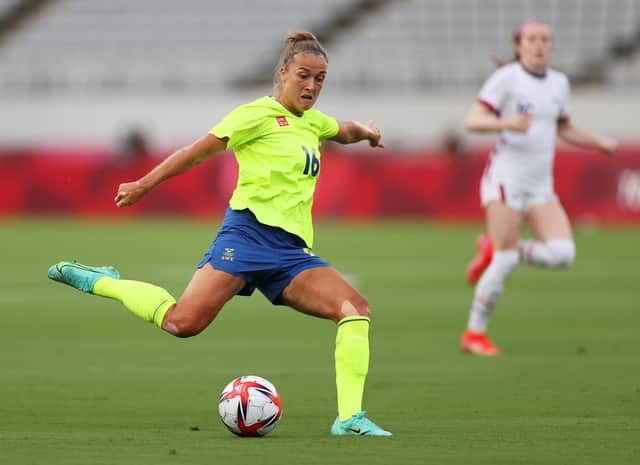 Filippa Angeldahl. Credit: Getty.
Gareth Taylor has expressed his delight at bringing Filippa Angeldahl to Manchester City Women, and feels she can carry out a number of different roles in the side.
The Swedish international was announced on Thursday as the club's latest signing, although she won't be available for Saturday's WSL opener against Everton at Goodison Park.
Ahead of the game, Taylor faced the media on Friday afternoon and was quizzed about City's latest recruit.
"[We're] really pleased to add her to the group," the City manager told reporters via video link. "She's a player with real pedigree behind her - she actually scored a few goals in the Champions League the other night with Hacken, her previous club.
"It's a player we've been monitoring for a while and we're really pleased to bring her in. We probably have to be a bit more patient with the international clearance and the visas. But as to when she's available is yet to be determined. But she was with us today and it was good to have her in. It's a much needed extra body with all the injuries we have at the moment."
City will be looking to improve on last season's second-place finish and Taylor feels Angeldahl adaptability could prove crucial over the course of the campaign.
"I think she brings quality. She's a player that can handle the ball in good situations," he opined. "We like to have midfield players - we have predominantly some attacking midfield players; we have some predominantly more defensive-minded midfield players.
Angeldal played against City last season in the Champions League. Credit: Getty.
"I think Filippa is a player who can do both. I think she obviously brings a goal threat in the attacking role. Also, I think midfield players have that ability to perform in the front line in a slightly different way. Playing slightly more withdrawn, in between the lines, allowing some of our more defensive players to get forward."
Pushed further on exactly what role Angeldahl will occupy, Taylor said: "I think at times she'll play in the pivot role; I think she's good enough to do that. Obviously she can play in a more attacking role and give us that goalscoring threat.
"I think Kiera [Walsh] is capable of doing both, I think Vicky Losada is and we've seen that with Laura Coombs that she's able to do it too. We want that flexibility with players but also to give them time to settle into a new club, to work on the way we play and to give them the education that is going to help them to fulfil their talent."
City are one of a number of clubs to strengthen in the off-season and Taylor feels the added quality in the league this season should make for a hugely competitive season.
Gareth Taylor. Credit: Getty.
"I think if you go alone on activities by a number of teams, there have been quite a few comings and goings. There are quite a few teams, and Everton being one of them, that could have a real good go this season.
"I think that makes for an exciting league hopefully. I thought it was a really exciting league last season and, for us, we want to give ourselves the best possible chance; we want to be as consistent as we possibly can and we would love to be able to call upon more of a playing pool at the moment.
"We just need to stay in touch. I think if we're still in touch around Christmas, that's when we'll have a really good opportunity. It'll be a tough game for us tomorrow against Everton. I think in the past that might have been viewed differently. I think on their own patch at Goodison Park, in front of a crowd, it's going to be a really tough game. But we need to be ready and be on the front foot as much as possible."