City were leading 5-3 on aggregate heading into the 90th minute at the Bernabeu and hadn't faced a shot on target in the 90 minutes during the second leg.
But Real managed to stage an improbable comeback, with Rodrygo scoring two, before Karim Benzema netted again in extra-time and Real progressed to the Champions League final.
This isn't the first time City have suffered European heartbreak under Guardiola, but the Catalan insisted his side have not developed a mental block when it comes to the competition.
"All the data and analysis, how do you control the emotion of the players? Tell me in the data how the players feel in that moment, how do you feel? Do you think they want to lose?
"They went to stop the cross, deflected from one player, goes to Rodrygo, scores again. It's football. What happened – it's football. It happened and now we have to accept it.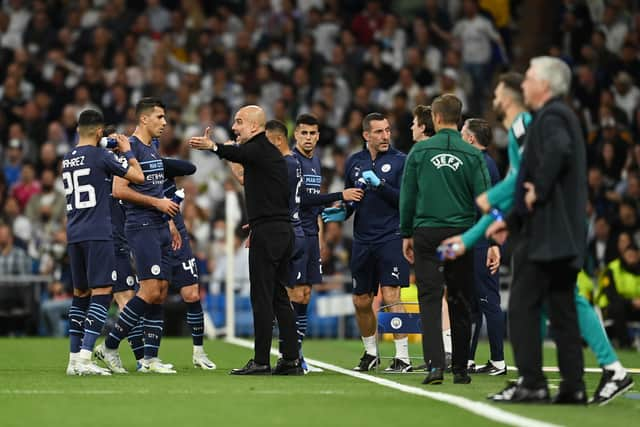 "Lack of character? What happens if Jack Grealish scores those two goals," he added. "What is the character? In Atletico Madrid when [Angel] Correa shot and Eddie [Ederson] saves, now its character. When Correa scores it's not character. When [Thibaut] Courtois put his feet here and deflected for a corner and away from the goal that is not character for the team.
"Margins like this we have to handle it and maybe we have to have more time and after kick-off we have to know, a long ball from Eddie. You play with emotions, and emotions are uncontrollable.
"What happened here, we scored at 3-1 and in that moment we were hot and Madrid were down, I was there. One minute later, thow-in, 3-2, not even two or three minutes to maybe get the momentum, football in this competition is momentum. The players in the Premier League, they know they have another game but in the Champions League it's a question of time.
"The goal happened immediately. Madrid deserved it because they are in the final but if you deserved to score more goals, we had taken the chances and defend better the first goal which we didn't defend properly. That's why I never blame things, always you can do better and you work for that.
"And that is why for next season if we are here together, and do it, that is what we have to learn. Maybe it will help us."
Guardiola was also quizzed on what he said to the players after the game. "Nothing. We didn't speak," he responded. "No words can help for what all of us feel. It is just a question of time, sleep as well as possible and think of the next target.
"Tomorrow will be the first day we are together and we are going to talk about who we are as a team, what we have done in the semi-final, how good we have been not just in these two games but all season and try to do it over the last weeks."