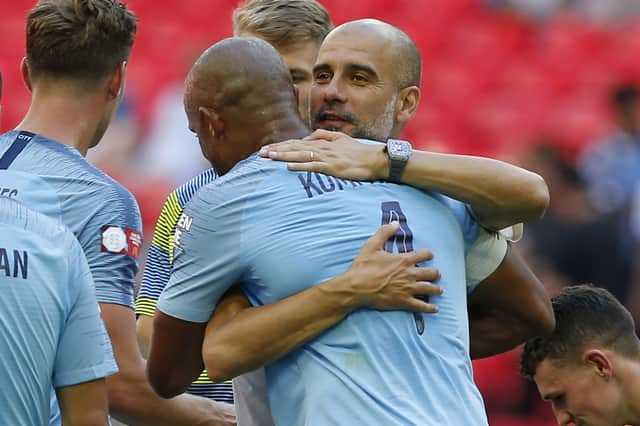 Pep Guardiola has said Vincent Kompany is 'destined' to one day be Manchester City manager.
The Belgian is set to return to the Etihad for the first time as the manager with City paired against the Clarets in the quarter-finals of the FA Cup, a game that will be played over the weekend of 18/19 March.
And speaking following the draw, Guardiola said he has been hugely impressed with Kompany's success at Burnley, with the Clarets currently 12 points clear at the top of the Championship, and said he thinks Kompany could one day take over as City boss.
"I am impressed with the consistency - the Championship is so difficult with the number of the games," claimed the City boss. "The consistency has been unbelievable. They are close to being promoted to the Premier League next season and personally I am delighted with his success, what they are doing in Burnley.
"I think all of us, the fans, are happy he will be back. He will be back sooner or later. I think his destiny to be the manager of Manchester City, it is already written in the stars. It's going to happen, I don't know when but it is going to happen.
"It's a quarter-final of the FA Cup, an incredible chance to again reach the semi-final at Wembley. We will try to compete against Vinny and his team."
Asked again about Kompany, Guardiola said: "Sooner or later he will be the manager of Manchester City, when, I don't know. But I am pretty sure.
"It is my feeling, maybe I am wrong. He has the attributes: work ethic, knowledge of the game, well respected, experienced. Doing what he has done is so difficult and he is doing really well. He knows the club, the environment, the fans, what our people need. The destiny is there.
Meanwhile, speaking on Thursday, Kompany admitted he still 'kicks every ball' when City play but feels 'calm' about the prospect of playing his former side in a few weeks' time. "The kids will have a tough decision to make on the day, but it's also one where you're looking forward to it.
"I've got a few games now that are more important, which is every Championship game in-between, but in the end it'll be a special day. It's an experience for the players and I think they've earned the right to look forward to such a game. It's definitely good for them, but from my side I'm really calm about it.
"I wish them well, I still kick every ball with them whenever I watch them. I represent Burnley, and I'm extremely proud to be at Burnley, but I know the players on a personal level still."