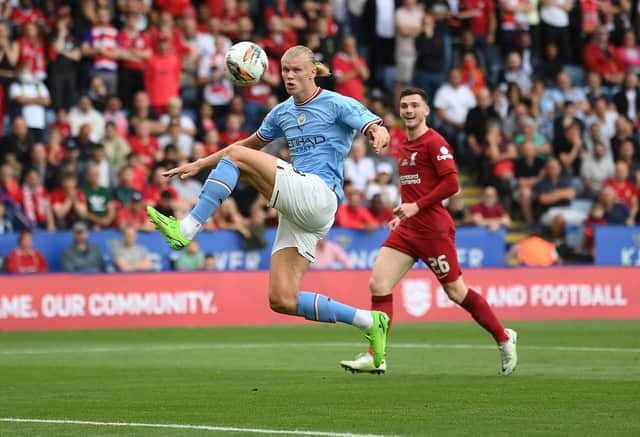 The Premier League champions were beaten 3-1 by the FA Cup and League Cup winners in Saturday's Community Shield, with goals from Trent Alexander-Arnold, Mohamed Salah and Darwin Nunez cancelling out Julian Alvarez's strike for City in the second period.
But for the other debutant in sky blue, it was a frustrating evening in Leicester as he failed to find the back of the net or effectively link up with his new team-mates.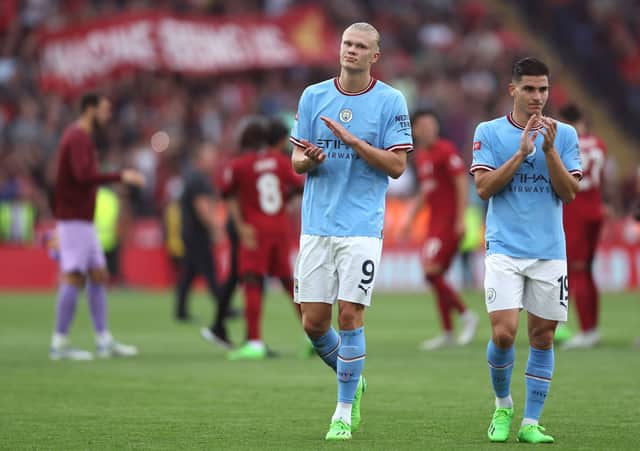 Despite that, Guardiola has no concerns about the display from his new No.9, as City begin to integrate the striker.
Instead, the Catalan felt Haaland's ability to create goalscoring opportunities showed signs of optimism for the season ahead.
"He has chances, two or three in the first half and one in the end," Guardiola said after the game. "Always he is there. He fought a lot and made the movements.
"It's good for him to understand and see the new reality of a new country and a new league. He was there. Today he didn't score and on another day he will score.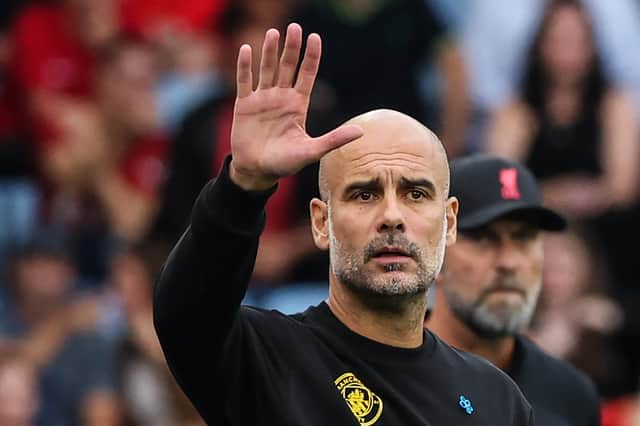 "He is going to help us a lot, so when he scores in the States… Erling Haaland, everyone talks about him. He was there and had the chances, nothing changes."
'Haaland will bounce back'
Haaland saw a goal ruled out late on after the ball went out for a goal-kick in the build-up, but the striker's most disappointing moment came in injury-time when he blazed a shot over from a few yards out, even though he was subsequently ruled offside.
It's a clip that will be shown repeatedly on social media over the coming days, especially given how it contrasts with Darwin Nunez's goalscoring appearance for the opposition. Yet, Guardiola reiterated his stance that Haaland will score a plethora of goals for the champions, and will not be affected by the miss.
Asked if he was worried by the shot that clipped the crossbar, Guardiola responded: "No, he has an incredible quality and he will do it.
"He is strong. He misses and another time he will put it in the net. It is no problem; that is football.
"He was there and there was another goal disallowed after the ball crossed the line. He has the talent and he will do it.
"It is good sometimes to understand what he needs. It is good and I am not worried about that. We would be happy if we win and he would score a goal, but the reality is we have two or three months ahead of us that is so intense. He is going to help us, I am sure of that."