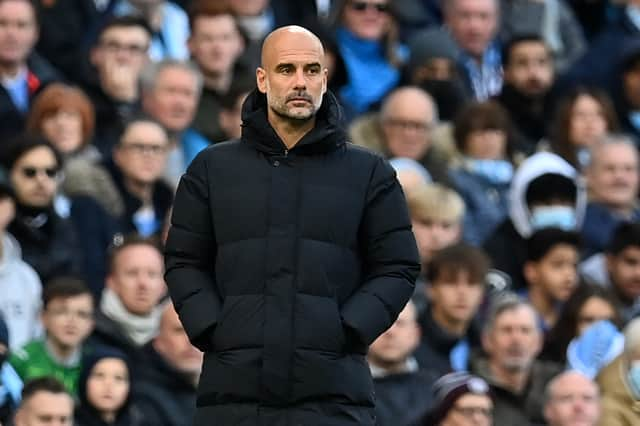 Pep Guardiola has said he will support whatever decision the Premier League make regarding matches being cancelled. Credit: Getty.
Pep Guardiola has said he will 'support' what decision the Premier League make regarding a potential pause on the season, as matches continue to be called off due to the high numbers of covid-19.
Six Premier League games were postponed at the weekend, while several took place with teams featuring weakened squads. Liverpool, for instance, fielded an under-strength side in their 2-2 draw with Tottenham Hotspur, while Chelsea named a six-man bench that included two goalkeepers on Sunday.
There were also reports from The Athletic on Sunday night that the decision to postpone the round of top-flight fixtures between 28-30 December could be made during Monday's Premier League meeting.
City weren't at their best on Sunday but still won 4-0. Credit: Getty.
"I don't have an opinion on that," he said in his post-match press conference at St James' Park.
"I will support the doctors and scientists and the Premier League's decision. It's not a problem for the Premier League, it's a problem for society.
Pep Guardiola. Credit: Getty.
"I see people in the street, nobody [wearing a] mask, nobody social distancing. That's why it's going to happen sooner or later. Nobody protects themselves or their families.
"We try to create a good environment for our players and our staff to realise the danger is still here. You have to be alert. We have to try it knowing it's not easy because it's not a problem for football or the Premier League, it's a problem worldwide that's still there. The virus is there, the new variant is there. What the Premier League decides, we are going to support."
When are City next in action?
At present, the Blues are next due to play on Boxing Day, when they host Leicester City. For now, there's no suggestion that match won't go ahead, although it's unclear how many teams will be able to field a side form the 10 Premier League games over 26 and 27 December.
Meanwhile, in midweek, the quarter-finals of the League Cup are due to be played. City aren't involved in those games after being eliminated against West Ham United in the previous round, meaning, excluding international breaks, they should have a full week to prepare for a game for the first time since August, .
After the Boxing Day match against Leicester, City are currently due to play Brentford on 29 December, Arsenal on New Year's Day, before the FA Cup clash with Swindon Town on 7 January.