Pep Guardiola has spoken in glowing terms about his former assistant coach Mikel Arteta, and explained how the now Arsenal manager convinced him to join his Manchester City staff in 2016.
Arteta was appointed to Guardiola's coaching team at the start of his time in English football despite the former Everton midfielder not having any top-level coaching experience. But the City boss explained it was Arteta's inside knowledge of the Premier League that persuaded him to hire the recently retired player. Arteta left City in 2019 to return to Arsenal and become their permanent manager, and he could be close to leading the Gunners to a first league title in 19 years, potentially beating his mentor to spot.
In the build-up to Friday's FA Cup encounter between City and Arsenal, Arteta admitted he would 'prefer not' to be competing against his friend and former boss, and detailed the impact Guardiola has had on his career.
Speaking on Thursday, Guardiola also praised the Arsenal manager and was quizzed on the circumstances that led to his appointment in 2016. "We were in touch before," he explained. "I have [City fitness coach] Lorenzo Buenaventura, maybe the closest friend because we started together in Barcelona.
"He knows Mikel really well and I knew him a little bit, but not like Loren. We made a conversation and he said, 'I would like to work together and I can help you because I know the Premier League perfectly, I know all the managers'. I remember the first game was against Sunderland and it was against David Moyes and he said, 'I know him well from Everton, he does this, he does that.'
"After 15 minutes, half an hour, I said, 'He is the guy, he can help me to anticipate'. After, the Premier League you have to know sooner or later, but if [it's invaluable] to have someone with that knowledge to know what it means to go to Stoke City.
"A guy who has been many years here and we started to go together. I don't know what part I had on him, but his influence on me was great and so important to become a better manager."
Guardiola was also asked if he once foresaw a day when Areteta could have replaced him as City manager, before he took up the reins in North London.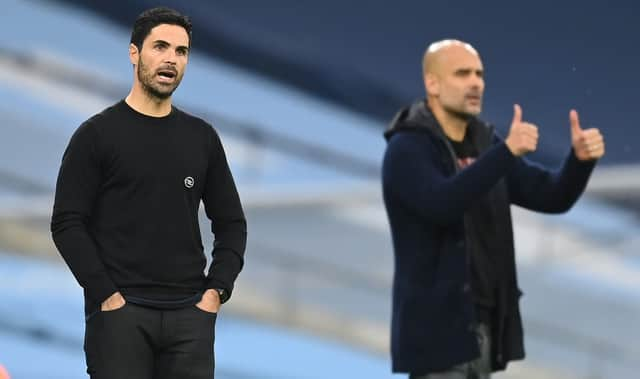 "I'm pretty sure that if I would have left before and he would be here, he would have been the best. But I extended the contract and he did not wait, but it could have happened, definitely.
"I said many times to the players and staff because I have had many assistant coaches since I arrived - I don't want anyone who doesn't want to be with me," he added. "We felt that if one team could offer him to be manager, he would leave. It could have happened years before and I am not a guy to say 'you have to stay with me'.
"Everyone has dreams and I know he went to his club, the club he dreamed of. He was a supporter of Arsenal for the fact he played there, was captain and loved that club. I remember that when we were together here and we scored a lot of goals, he jumped and celebrated except [against] one team.
"One team, every time I jumped and celebrated and came back he was sitting there: it was Arsenal. I said 'that guy likes Arsenal'."