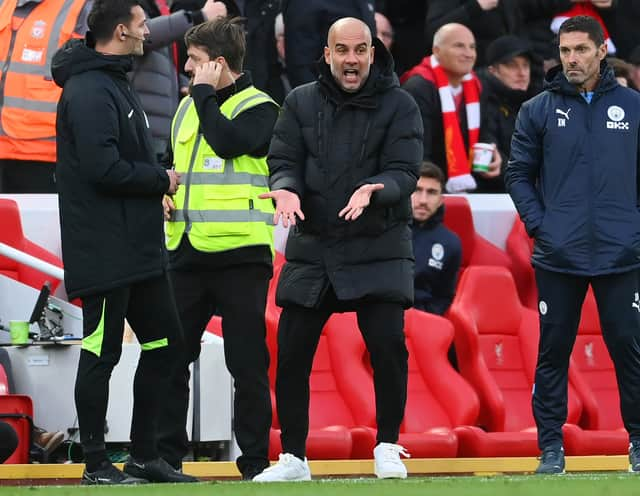 Pep Guardiola felt Anthony Taylor's decision to cancel Phil Foden's goal against Liverpool was inconsistent with his overall approach to the game, as Manchester City suffered a 1-0 loss at Anfield.
The Premier League champions were beaten by Mohamed Salah's solo goal in the second period on Sunday, a strike which means City now trail leaders Arsenal by four points in the table. But it could have been a different story had Taylor not disallowed Foden's goal in the early stages of the second half.
The referee adjudged Haaland's involvement in the build-up to be a foul after the City No.9 dragged back Fabinho just seconds before Foden smashed the ball beyond Alisson. Taylor originally didn't blow for a free-kick but, after a pitchside review, opted to punish Haaland and rule out the goal, much to the annoyance of Guardiola.
Speaking after the game, the Catalan felt Taylor's decision was not in keeping with his relaxed approach to the game. "This is Anfield," he responded, when asked what he felt about the incident.
"The referee spoke with my assistants and Jurgen [Klopp] and said [before the game], 'I'm not going to give fouls unless they're clear'. All game was play on, play on, play on, except the goal. We scored and after it is not play on. This is what happened.
"The referee can decide he is going to whistle all the actions but he decided not to and then after he did it. We didn't lose the game for that but it was a moment where we have momentum and scored a goal."