It means the Norwegian is on exactly half of the highest-ever tally recorded in a single Premier League campaign - set by Alan Shearer and Andy Cole respectively in the early 1990s, although over a 42-game season.
Therefore, despite the 2022/23 campaign being less than a third of the way through, Guardiola feels Haaland is in a good position to break the record. "You don't have to be a genius, if he continues to play with this rhythm and the average every game, he is going to break the record, definitely," opined the Catalan. "But in football maybe you score and in a few days you stop scoring.
"I think he is happy when the team win," Guardiola added. "But all the strikers I have seen in my career like Samuel Eto'o, David Villa, Lionel Messi, [Robert] Lewandowski, Thomas Muller, Sergio Aguero - they have incredible ambition to score goals. It's normal and it has to be like that."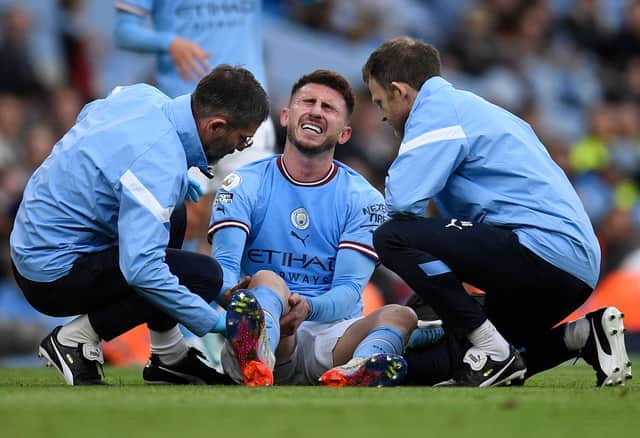 The City manager also said Aymeric Laporte seemed fine after the full-time whistle against Brighton. The defender, who made his first Premier League start of the season after recovering from a recent long-term injury, went down in the latter stages of the game and appeared to be in pain. However, Guardiola laughed off any suggestion of a knock, claiming Laporte's reaction was a little 'exuberant'.
"I didn't speak with him but he came into the locker room quite well, walked normally. Ayme, when he gets a kick, is a little bit exuberant," he said. "The important thing is [after] a big injury we want to control the minutes because every game at the end he is suffering muscular issues. But it is necessary."