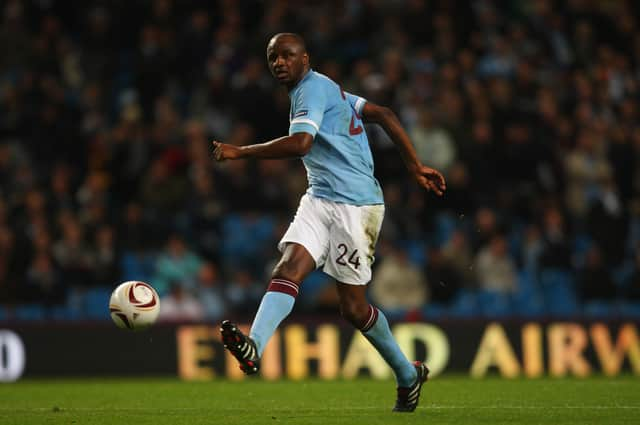 Patrick Vieira playing for Manchester City in 2011. Credit: Getty.
Patrick Vieira may be synonymous with Arsenal in the eyes of most English football fans, but the midfielder also holds a strong affection for Manchester City and Pep Guardiola, he's recently revealed.
The Crystal Palace manager spent a season and a half at the Etihad at the tail end of his playing career and remained with the club in a coaching capacity after he retired.
As Vieira prepares to bring his Palace team back to City, we're reflecting on his time in M11 and the affinity he clearly has with the club.
Vieira played 46 times for Man City. Credit: Getty.
When did Vieira play for Man City?
At the age of 33, after a hugely successful career which saw him represent AC Milan, Arsenal, Juventus and Inter Milan, Vieira signed for City and linked up his former manager Roberto Mancini.
The World Cup winner signed in January 2010 and despite the presence of defensive midfielders Gareth Barry and Nigel De Jong, only missed three of the club's last 16 league games that term, as they finished fifth.
But the signings of Yaya Toure, David Silva and James Milner the following window reduced Vieira's appearances and he played 90 minutes in the league just twice in 2010/11, while most of his performances came in the cup competitions.
He actually played in every single game of City's successful FA Cup run that season, including a late cameo appearance in the final, which was ultimately Vieira's last-ever match in professional football.
Did Vieira coach at Man City?
After retiring, Vieira was appointed as City's Football Development Executive, a role which was actually created specifically for him.
In 2013, Vieira was promoted to manage the club's reserves and once described managing City's senior side as a 'fairy-tale story'.
Vieira coached City's youth side. Credit: Getty.
A few years later he went on to take over City's sister club New York City and also managed Nice before taking the Palace role this summer.
What did Guardiola say about Vieira?
"It will be an honour to see him again here in Manchester," the City manager said on Friday. "He was an important part of Arsenal's history. What he did there was outstanding.
"After, I was lucky to meet him in New York. I'm happy he's back at a high level in the Premier League, doing well.
"These types of human beings, not just on the pitch, what he has done for the Premier League and world football was outstanding.
"It's a privilege and an honour and only I can say thanks to him. We were together for a short time in Manchester and now he's changed the dynamic and how they play with Crystal Palace, changing many things. It will be a good test tomorrow."
What did Vieira say about Guardiola?
"We haven't spoken for quite a long time but yes he was really helpful," said the Palace boss in his pre-match press conference.
"When I was doing my badges and he was at Bayern Munich, he opened the doors for me to look in at the full set-up and spent some time with me after training and in the evening and that just shows the kind of person he is. It was a privilege for me to spend that quality time with him."
Patrick Vieira returns to the Etihad this weekend. Credit: Getty.
In a separate press conference earlier this month, Vieira revealed how big a role City played in his decision to become a manager.
"Wanting to go into coaching – that came later when I was at City. They made me understand that I had a lot to give back to football. And Brian Marwood was fantastic. If I really have somebody to thank for the journey so far it would be him."