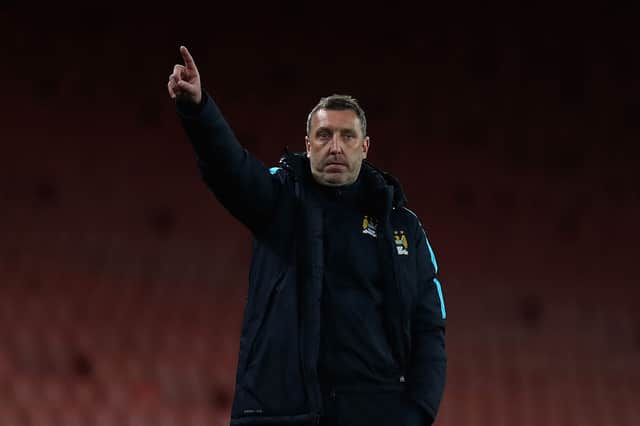 Coach Jason Wilcox gives instructions during the FA Youth Cup semi-final second leg match between Arsenal and Manchester City at Emirates Stadium on April 4, 2016 in London, England.
Manchester City's Jason Wilcox is being eyed by Newcastle United's new owners-in-waiting, ManchesterWorld has been told.
After an 18 month wait, the Magpies' takeover by the PCP Consortium looks set to be completed on Thursday, ending Mike Ashley's 15-year ownership of the club.
And as part of the revamp, Newcastle will look to make a number of key changes to their setup, with the academy and sporting executive of the club set to be significantly beefed up.
Wilcox, who is City's academy director, is understood to be a candidate for the sporting director role as part of the new regime.
Wilcox is a former England international who spent the majority of his career at Blackburn Rovers and Leeds United and earned three England caps during his playing days.
It's unclear how significant this loss would be to City, who have a number of key figures in their academy structure.
It's only two week since Pep Guardiola highlighted the work of Wilcox among others, after City fielded a number of youngsters in their League Cup win over Wycombe Wanderers.
"To Jason Wilcox and Enzo Maresca, who did an incredible job with them last season and of course with Brian Barry-Murphy right now and Carlos [Vicens]," the former Barcelona manager told City's official club website.
"All of them did an incredible job. They have many good players, not just one or two. All of them are incredibly well-educated people. Thanks to their families, too."