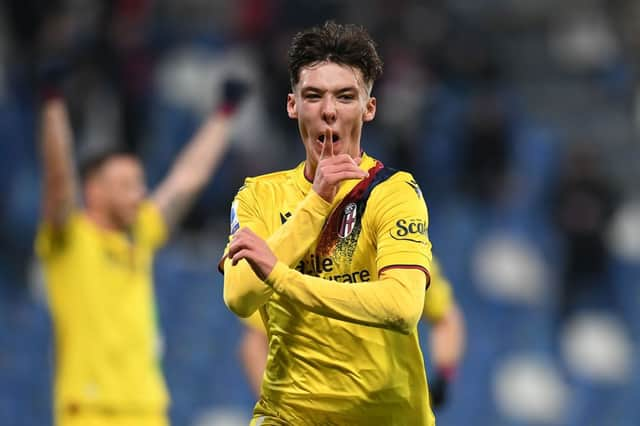 Aaron Hickey of Bologna FC. (Photo by Alessandro Sabattini/Getty Images)
According to a fresh update from Calcio Mercato, the Premier League champions are keen to bolster their options at left-back, and believe that the teenager could be a worthwhile addition to Pep Guardiola's squad.
Any potential move for Hickey may have to wait beyond the January window, but the Italian outlet's report makes it clear that City are monitoring the starlet's progress.
Who is Aaron Hickey?
Hickey's career so far has been anything but orthodox.
Hugely prodigious, the full-back broke into Hearts' first team in 2019, and quickly garnered widespread attention for his buccaneering style and eye for goal.
After becoming the youngest player ever to start in a Scottish Cup final, Hickey would go on to earn a move to Italy in September of last year, and since then has gone from strength to strength.
The defender already has five goals in 20 Serie A appearances this term, and has established himself as a key component in Bologna's starting XI.
With the likes of Andy Robertson and Kieran Tierney ahead of him in the pecking order, the youngster has had to wait for senior international recognition from Scotland, but his trajectory is steep and he continues to thrive on the continent.
How likely are City to seal the deal?
At the moment, this one probably falls into the category of "speculative" more than anything else, but there's no reason to suggest that City couldn't make a deal happen if they were to firm up their interest in Hickey.
The Scot still has two-and-a-half years left to run on his contract in Italy, but he only cost Bologna around £1.5 million, and any kind of serious bid that offered them the opportunity to make considerable profit on that initial outlay could prove to be tempting.
In terms of whether City need another left-back, Joao Cancelo has been revelatory since arriving at the Etihad, but beyond him there is definitely room for the squad to be strengthened.
Oleksandr Zinchenko and Nathan Ake are both capable of occupying the role, but neither are out-and-out specialists, while Benjamin Mendy faces a hugely uncertain future at the club amid multiple allegations of sexual offences for which he will stand trial next year.
As such, it wouldn't be out of the question for City to bring in another left-sided full-back, and Hickey continues to prove that he is an exciting prospect with plenty of potential.