Manchester City 'pushing for EFL to allow five subs in Carabao Cup'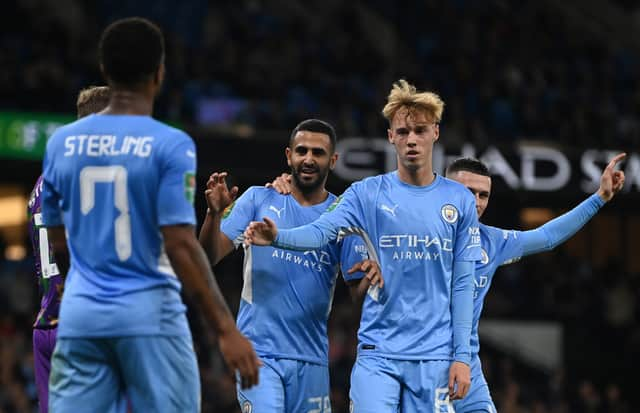 The Citizens, who have won the last five editions and have won six of the last eight, want to make some changes which could benefit them and others.
They are keen to reintroduce five substitutions which were used for the semi-final and finals of last season's competition.
City are allowed to make five changes per game in the Champions League at different intervals but that is overseen by FIFA and not the FA, Premier League or the EFL.
A report from the Daily Mail claims that City are the instigators of making the changes to the rules, and that Pep Gurdiola is the driving force behind it. City are trying to persuade the over 15 clubs, though it seems unlikely that they and the Football League will budge.
It does have some support but there is a feeling that it would only benefit those who have bigger squads, whilst teams knocked out of the competition wouldn't have been afforded the opportunity.
Any changes would have to be made shortly, as West Ham United and Man City are due to meet on Tuesday, October 27 in the Round of 16.
Why would the rule changes benefit Man City?
Allowing for five substitutions could allow Pep to field younger players, giving them vital first-team minutes against credible opposition.
Rather than taking a sizeable match-day squad in which only 14 players can be involved, it would make for more playing opportunities for fringe players.
What other changes has Pep proposed?
It is not the first time this season that Guardiola has called for a change to the make-up of English football.
In late September, City comfortably beat Wycombe Wanderers 6-1 to confirm their passage into the next round and six first-team debuts to academy graduates.
The likes of James McAtee, Roméo Lavia, Josh Wilson-Esbrand, Luke Mbete, Conrad Egan-Riley and Finley Burns all featured, holding their own, whilst two academy graduates in Phil Foden and Cole Palmer were on the scoresheet, highlighting the success of City's decision to invest in their academy structure.
Given their performances, Pep subtly called for the introduction of reserve teams in the English pyramid system, rather than playing against their age-grade counterparts.
"They should play every day in the Championship of League or League One. That should be the best level for English football, that would be the best."
Before rising to managerial stardom, Guardiola managed the B team of Barcelona, where he was successful, challenging clubs with senior players with his youthful Barca teams, which is why Pep is in favour of it.