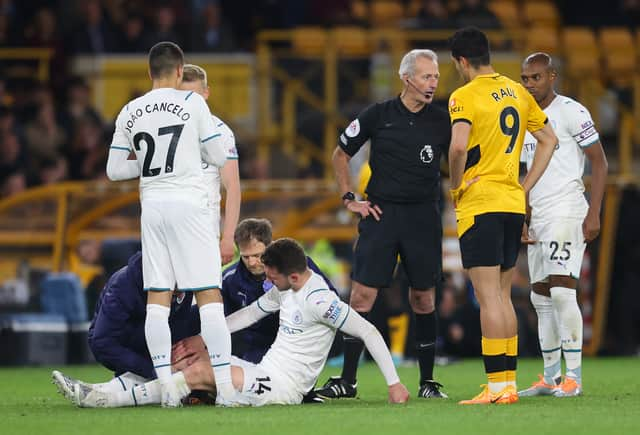 Aymeric Laporte picked up an injury as Manchester City beat Wolverhampton Wanderers 5-1. Credit: Getty.
The energy in midfield, fluidity up front, composure on the ball and the speed at which Pep Guardiola's men zipped it about, this one of City's best displays of the campaign so far. The visitors even hit the post twice and saw a second-half strike ruled out for offside.
Everything against Wolves was conducted by City's midfield lynchpin, the roving tornado in the middle who displayed subtlety and precision with equally devastating effect: Kevin De Bruyne.
The 30-year-old had netted three by 24 minutes, while the brilliant Belgian grabbed four overall on the night, with Raheem Sterling netting a late fifth at Molineux.
But despite City moving three points clear at the top of the table, there was still one area of concern.
Kevin De Bruyne was on fire at Molineux. Credit: Getty.
Defensive woes
But that situation was only exacerbated when Aymeric Laporte was replaced in the second half after a collision with Raul Jimenez. The coming together looked a serious one, with the Mexican striker crashing into Laporte's standing leg and seeming to jar the centre-back's knee.
Indeed, the Spanish international was seen icing his knee when he was replaced and it looks likely Laporte won't be an option in the final two games of the season.
Pep Guardiola will have to field a makeshift defence for the final two games of the season. Credit: Getty.
To compound matter, Fernandinho, who filled in at centre-back against Wolves, came off and Guardiola confirmed post-match he's picked up a knock.
It meant City finished with midfielder Rodri at the heart of defence, while Nathan Ake - who has been dealing with ankle niggle himself - slotted in alongside him.
Three-and-a-half point lead
What a difference a week makes. Last Wednesday, City led at the top of the table by a single point over Liverpool, but crucially the Reds had a better goal difference.
Yet the 5-0 win at home to Newcastle United on Sunday, combined with the four-goal thrashing of Wolves, means it's City who now have the better goal difference, which is now seven greater than their nearest rival's.
With just two games to go it would take a massive change in fortunes to prevent City winning the title. In fact, the upturn in goal difference could allow Guardiola's side to lose one of those games and still finish top of the pile.
Where Haaland will fit in
While De Bruyen was pulling the strings in the West Midlands, it was notable how much the No.17 benefited from the gaps Bernardo Silva created for him.
The Portugal international started up front, but habitually dropped deep during the game and opened up spaces for De Bruyne to drive into.
Using this striker-less system, City have been hugely impressive this season, but it again raises the question of how different things could be next term with Erling Haaland.
Erling Haaland's transfer to Manchester City was confirmed on Tuesday. Credit: Getty.
The Norwegian's transfer to the Etihad was announced on Tuesday, and it means City are expected to overhaul their tactical set-up in 2022/23 to accomodate the goalscoring sensation.
Had Haaland started up front against Wolves, there simply would not have been the space for De Bruyne to advance into.
That's not to say City will struggle next season or Haaland's transfer won't work, but it does serve as another reminder how much this move will change the dynamics in this team.