Football fans are being warned to consider travel routes ahead of this weekend's FA Cup semi-final due to travel disruption.
It's a big weekend for football in the capital, with both FA Cup semi-final games at Wembley Stadium on Saturday and Sunday.
Manchester City are set to take on Liverpool on Saturday despite a travel headache for North West-based fans, with no direct trains to London from the North West over the Easter weekend thanks to scheduled railworks.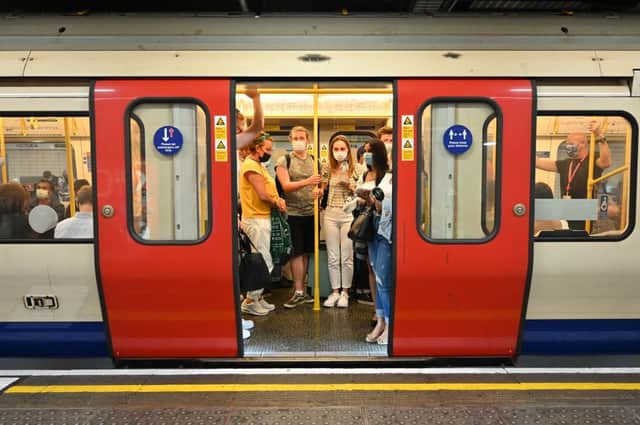 Mayor Andy Burnham had previously written to the Football Association to ask for the match venue to be moved further north to get round the travel issues, but the FA has put on some free coaches to assist.
Metropolitan line disruption
The Metropolitan line is running on an emergency schedule, with some routes just running once every half an hour.
This is due to an issue with the Tube line's train wheels, with TfL saying that a reduced service will operate until further notice.
Alternative routes
Fans still have two alternative travel routes on the London Underground, including the Jubilee line to Wembley Park station.
Alternatively, fans can catch the Bakerloo line to Wembley Central station.
Chiltern Railways also operates National Rail trains from Marylebone station to Wembley Stadium.
However TfL has warned that despite no other lines being affected, other services may be busier than usual whilst TfL resolves the fault with the wheels.
Fans are being urged to consider their journey as the reduced schedule will impact their travel before and after the game.
Services may also be busier at these times as supporters attempt to make their way to and from Wembley Stadium.
What has TfL said?
A TfL source said "We're currently inspecting the whole Metropolitan line fleet and will have more certainty of the impact and mitigations for the weekend in the coming days.
"We are working with the FA on any potential impact to event day services.
"Travel advice will be communicated ahead of the matches, but customers should check before they travel and consider alternative lines."
A Wembley Stadium spokesperson said: "We are in regular dialogue with TfL, and have been made aware of these safety inspections.
"We are working together to understand what effect they will have to event day services, however we are not expecting a material impact on our operations."
TfL has said that the Metropolitan Line service will run on the emergency schedule until further notice.
Peter McNaught from TfL has said: "We identified a fault with some of the wheels on a number of Metropolitan line trains during our regular and routine inspections of our fleet.
"Safety is our top priority, and as a precautionary measure, we have increased the rate of inspection of these trains to make detailed checks of the entire fleet.
"We have introduced a special timetable on the Metropolitan line to ensure we continue to run as frequent and regular a timetable as possible while inspections take place and our engineers resolve the fault.
"We're sorry that this may lead to some services and stations being busier than normal and advise customers to check before they travel."
Metropolitan line reduced timetable
The emergency service will run on the following timeline:
Amersham to Baker Street - every 30 minutes in both directions
Chesham to Baker Street - every 30 minutes in both directions
Uxbridge to Aldgate - every 15 minutes in both directions
Watford to Baker Street - every 15 minutes in both directions
There has also been changes to the first and last trains on the Metropolitan line